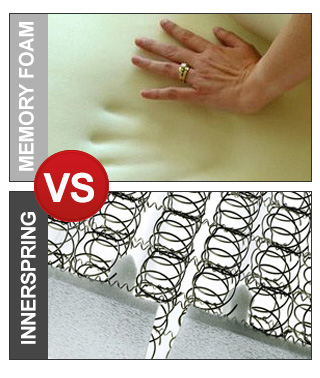 When deciding which luxury mattress to purchase, comfort plays a big role. Though, it can be difficult to distinguish the difference of comfort level between each brand of mattress, the level is significantly different than the other because of the technology used to create them. In particular, we're focusing on the innerspring vs. memory foam mattress. Both are luxurious and both are comfortable! The technology behind them, however, will determine the outcome of your decision of which luxury mattress best suits you.
Innerspring vs. Memory Foam Technology
Innerspring mattresses are comfortable when you sit or lie on them because of their firm feel. The durability is made possible by a number of springs, which push back against you as you lie down. Memory foam mattresses learn your body in the sense that the mattress will shape to your body contour, distributing the weight of your body evenly. This technology also allows pressure point reduction – only available in memory foam beds. Consumers who purchase this type of luxury mattress, report better sleep, fuller days and more relaxed mornings as they wake up.
Innerspring vs. Memory Foam Summary
Innerspring vs. Memory Foam Mattress:
Less expensive than memory foam bedding
Works as a shock absorber and can protect the mattress
Memory Foam vs. Innerspring Mattress:
Conforms to your body
Can be firm, but without hurting your back with unnatural firmness
Changes firmness with body heat
At Brickell Mattress, we offer the finest selection of memory foam, innerspring, water and latex mattresses available on the market today. Having been in the bedding industry for over 8 years, we know what you're looking for when selecting a mattress. We are here to satisfy your need for quality sleep with our quality mattresses. Contact us today for a sleep consultation!