Adjustable Beds – Brickell Mattress
Adjustable Beds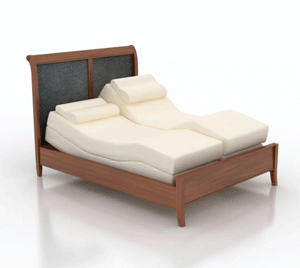 Brickell Mattress is THE place to go to find your ideal adjustable base.  We're proud to announce that we offer the largest selection of adjustable beds in one retail showroom in the entire nation. We have personally handpicked the top models from the best adjustable bed manufacturers in the United States, including: Leggett and Platt, Reverie and Ergomotion.  We're very excited about the future of adjustable bedding, and even offer a high-tech model that can be controlled by your IPhone!
New to adjustable beds?  What a surprise you're in for!  The adjustable base serves as a replacement for the ordinary foundation your mattress currently rests on. Today's adjustable beds have amazing features that provide both health and entertainment benefits.
Why Do People Choose Brickell Mattress's Adjustable Bases?
1. Adjustability
Head and Foot Adjustability allows the user to pinpoint their optimal sleeping position
Zero-Gravity Positioning provides a surface that reduces pressure points and allows for better blood circulation.
Increased comfort viewing of the TV or ultimate book reading posture.
Studies show that when you sleep at the ideal position for your body, you obtain a longer duration of REM sleep (deep, rehabilitative sleep)
2. Massage
Provides a spa-like bedroom experience, lulling many people to sleep more quickly.
Many adjustable bed models have sophisticated massage systems that have different intensities and settings, including wave massage!
3. Wall Hugging
Today's adjustable beds are built in all standard mattress sizes and will look much like a standard mattress when used in your bedroom.
4. Remotes
Remotes for adjustable beds are available wired (attached to the bed) or wireless.  The remotes allow you to control all the unique features of the adjustable base.
5. Warranty
We've done the work for you and picked the best manufacturers with the longest warranties.  The average warranty is about 25 years which includes three years of in-home service free of charge.
Call Us Today 305-326-4000

Or