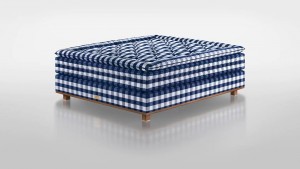 At Brickell Mattress of Miami our goal is to provide you with the best customer experience possible. We have incorporated a unique in-store feel with the finest selection of Ultra-Luxury beds in the whole state of Florida, making a mattress buying experience a unique and memorable one. Additionally, we have expert sleep professionals who have the utmost experience in finding just the right bed for you.
You will truly have a mattress experience unlike any other at Brickell Mattress. With an inviting and open feel, the store presents its mattresses in a calm stress-free environment, absent of the pressure from hassling salesmen. The interior was designed to present the beds as they would be seen in the home, a refreshing experience from the bland white sea of beds in your traditional department store.
Step Inside Our Showroom Gallery
The store is reminiscent of an art gallery, presenting the beds amongst a façade of elegance and flair. The idea of this environment is to give you time to try out the beds, talk with the sleep experts, and collaborate to find a bed that will truly fit you the best based on your personal preference and your body type. The true end-goal is to find you the best sleep you have ever had.
Consult with a Sleep Expert
Our team has decades of experiences matching the right person with the right bed, and would be happy to assist you 24 hours a day in determining whether these beds are a fit for you or not. As our team is paid hourly, not on commission, you can be sure you get a straight deal. On top of that we have an empirical process for matching the right person to the right bed that was honed out of necessity: we started our careers selling beds to customers over the internet, with no physical store presence, and we were, and continue to be, the industries #1 company in terms of lowest returns rate. This is due to understanding who you are, what you need and what you want, before we even begin to talk about price or ordering a product. So give us a shot. You have nothing to lose…
Visit Brickell Mattress Today
With an amazing in-store and over the phone experience you can be sure that no one will serve you better than at Brickell Mattress. Located at 1030 SW 8th Street, Miami, FL 33129, come in today and start your one of a kind mattress experience.
For more information go to www.brickellmattress.com or call 305-326-4000 to talk to a sleep professional who will guide you every step of the way. Come to Brickell Mattress, and start sleeping like you never have before. You have nothing to lose, and a whole lot of sleep to gain.