Innerspring Mattresses – Brickell Mattress
Innerspring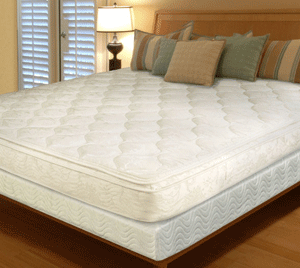 When people think of a typical mattress, the innerspring mattress is usually what they're imagining. At our specialty sleep store, Brickell Mattress, you are absolutely guaranteed to find a quality one. We have hand-picked a few innerspring models that use only the highest grade steel springs, and the most comfortable sleep materials like latex foam.
As a consumer, we're sure you've had an innerspring mattress in the past that's only lasted 3-5 years. Ideally, your innerspring mattress should last a minimum of 10 years without any producing any sinking or sagging.  All of the innerspring beds offered at Brickell Mattress are manufactured in America with the highest quality craftsmanship.
Why Do People Choose Brickell Mattress's Innerspring Beds?
1.     Comfortable, durable mattress at an affordable price
2.     Highest quality materials used (steel spring and latex foam)
3.     No need to flip or switch the head/foot of the mattress periodically
Call Us Today 305-326-4000
Or