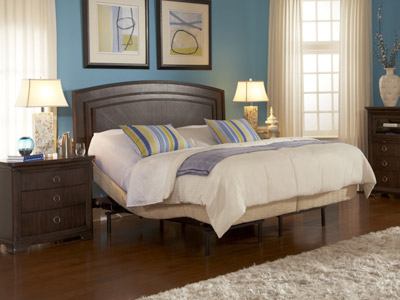 We have come a long way in the vibrating bed world; no longer do we have to search out a hotel on the side of the road, the one with the heart shaped bathtub, red flocked walls, curtains and bedspread. Not to mention feeling guilty because we spent a week worth of laundry quarters for an hour of fun. We can bring sweet vibrations right into our classiest, richest bedrooms through the modern adjustable beds which not only vibrate, but they raise both head and feet to create wonderful work spaces and view vistas.
If you are wondering where the best place to find a vibrating bed; Brickell Mattress is a place in Miami where there are wonderful options to choose from. Leggett and Platt, Reverie and Ergo Motion are creating the industry standards for adjustable beds by continuing to add more features as both the bed world and the digital world combine into one.
The best example of a great new adjustable bed is Leggett and Platt's contribution of the World's first Smart Bed with its newest offering Prodigy which features multi- mode wave and massage with head and foot adjustability all run by a wireless remote. The remote is created with an iPhone application that places the controls to your new adjustable bed frame right onto your favorite smart phone device.  What this means is you can literally run your bed, your home security, lights, locks and turn the Jacuzzi on in the pool outside without ever leaving your pillows. How cool is that?
Another wonderful feature of "beds that buzz" is that you can literally choose the mattress that works best for you as far as your health concerns. From Hypo Allergenic, pure and natural mattresses such as Carpe Diem and Vispring, (European bed manufacturers that use only the finest in materials that come from the earth), the field is wide open for comfort and personal mattress options. Nearly every bed manufacturer has a mattress line appropriate for an adjustable base. Nearly every adjustable base line has both vibrating and motion options that create healthy spaces for late night work and early morning play.
Find good vibrations and sleep experts that can guide you through all the ins and outs of both the mattresses and adjustable bed bases at Brickell Mattress located at 1030 SW 8th Street, Miami, FL 33129 – (305) 326-4000. Stop by and jump on… no need for quarters, the rides on us!