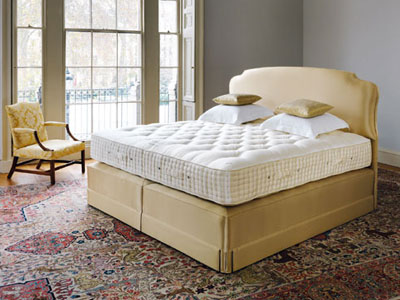 Brickell Mattress of Miami is a luxury bedding retailer that provides the finest and most exclusive selection of beds in the world. Amongst this selection is a legendary bed that is largely considered the best and most luxurious bed in the world. Meticulously handcrafted from the finest natural materials from around the globe, this bed embodies a flawless perfection that is built over the course of days, even the 5 hand-stitched rows on the side of the bed take 6 hours alone to complete, a testament to the incomparable quality of each and every VISPRING. There is truly no other, there is truly no equal, there is only one, there is the VISPRING Masterpiece.
3 Luxurious Layers
Featuring three layers of perfectly nested independently pocketed vanadium steel spring coils tuned for superb response in addition to a hand teased layer of wool from the Shetland Isle, horsetail hair, cashmere, alpaca, bamboo, and organic cotton; all sourced from all over the world, The Masterpiece represents the true pinnacle of Ultra-Luxury. The comfort offered from this bed is truly indescribable and unlike anything else; all components of the bed work together to cradle your body and relieve the pressure points that normally lead to late night restlessness and tossing or turning.
Lavish Mornings in Bed
When one wakes up from the profoundly comfortable Masterpiece there is no back pain, no drowsiness, just a sense of balance, and the only problem one often faces is the fact that they do not want to leave the bed that has so profoundly changed them over the course of one night. This mattress truly redefines what it means to sleep. One can feel the care and meticulous precision that is put into every aspect of this VISPRING. Hours upon hours are poured into this wonderful bed with the one goal to make a mattress without flaw, a bed that exemplifies its title, The Masterpiece. This bed was designed to be so much more than just an everyday mattress; it was designed to be life changing, and it is just exactly that.
Experience Luxury Beds in Miami
You can absolutely only experience this bed for yourself, for no picture or no words give it justice. For more information and to schedule a personalized visit, call 305-326-4000 to talk to a luxury sleep professional who will assist you with everything that you need. If you do not live in the Miami area and would like to experience The Masterpiece for yourself, Brickell Mattress will fly you down to Miami for free to see these beds. Redefine your meaning of sleep, experience the bed that changes lives, experience the VISPRING Masterpiece.