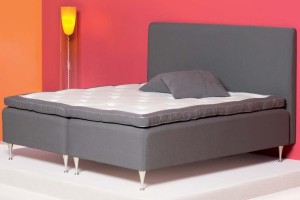 We previously gave you a little insight into Carpe Diem's history and today we're shedding some light on its mattresses which utilize the finest materials such as organic wool and cotton.
Let's begin with the Malö which provides ultra-responsive support regardless of what position you may choose to lie in. The handmade mattress features a powerful spring system plus pocket-over-pocket support layers that assist with reading body shape and reacting with incredible prevision.
The Härmanö is a continental bed and it provides a sleeping experience that can be best described as weightless. It features the signature Carpe Diem Exclusive Top Mattress which allows you the flexibility of choosing to sleep on a cotton comfort layer or a warm wool layer.
The Skaftö bed is a fusion of exquisite design with an unsurpassed level of comfort. The fully adjustable luxury sleep system features mid-body leveling adjusters that allow you to easily adjust multiple regions including the head, foot region, and more.
This update is by Brickell Mattress. We sell luxury beds and the world's top mattress brands: VISPRING Luxury Beds and mattresses, Hästens Since 1852 and CARPE DIEM BEDS OF SWEDEN. We offer a sterling selection of mattresses including organic & natural latex, as well as handcrafted beds and innerspring mattresses. We also have a broad selection of bedroom furniture and accessories. With more than eight years of working in the bedding industry, we pride ourselves on being your premium quality sleep center in Miami-Dade County. Visit us online at http://www.brickellmattress.com, at our store located at 1030 SW 8th Street in Miami or give us a call at 305-326-4000 for more information on Hastens mattresses or other brands.