Details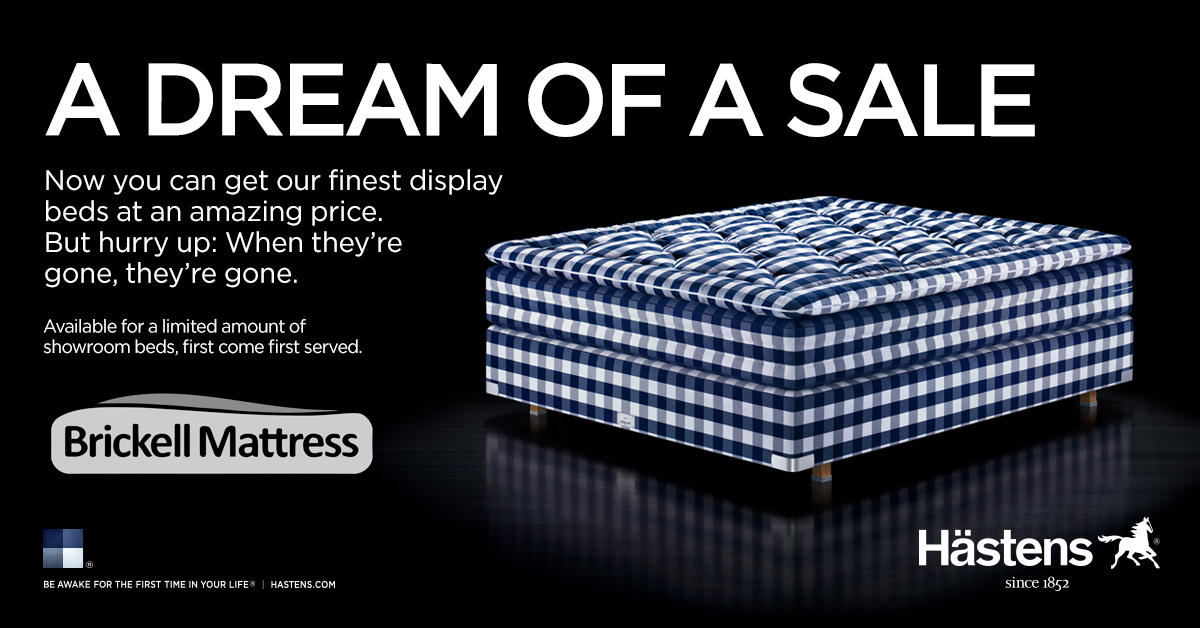 The Hästens 2000T completely redefines the definition of a bed, delivering a sleep experience that is simply, well, beautiful. This bed was designed to adjust effortlessly to the tiniest of movements and sleep position changes, all of which remain isolated so your partner can sleep just as soundly as you will when either of you move around. This incredible support is provided by a trio of individual Hästens Spring Systems working together to support the entire body. A fusion of elegance and comfort, with the 2000T, you'll experience an unbelievable sense of wonderful weightlessness.
Hästens 2000T is the epitome of everything a Hästens bed should be. Its exclusive quality and uncompromising' sleep comfort is difficult to challenge. (We know no one who succeeded. Apart from ourselves, each time we improved it a little bit.)
THE BEDS WE LIVE FOR
Hästens
2OOOT
[tus anzand ii]
The apex of our knowledge, craft and experience - brought together in what we proudly call the consummate bed.
To lie down on a Hästens 2000T bed is to rest on Hästens' entire history. The bed is the culmination of what we have learned during our 166-year quest for the best sleep possible: from profound insights into the human body and unique knowledge of materials to five generations of craftsmanship.
It contains 34 layers and over 200 kilograms of carefully selected natural materials. Each individual layer is well thought-through and refined practically down to the last horsetail hair.
We want to give you the very best possible sleep quality, night after night. Plus the energy you need to be the best version of yourself, day after day.
Three separate spring systems act together to give your entire body the support it needs. The bed adapts smoothly to your movements and small changes in sleep position, while your sleeping partner remains undisturbed.
The history of Hästens 2000T is one of constant refinement. For instance, in recent years we have partitioned the horsetail hair into more and thinner layers, with even thinner layers of cotton and wool between them. They are artfully assembled by hand. Our master craftsmen use experience to guide them as they carefully ruffle the fibers together. As you might guess, this requires a significant investment in time. However, this age-old technique is well worth the effort. The goal is to produce the dream-like, airy, and pliable feel of a Hästens 200T - making it quite simply a masterpiece of comfort.
THE BEDS WE LIVE FOR
Hästens
2000T
203.1 kilograms of perfection.
MIDDLE MATTRESS
Elevates the concept of sleep comfort. As if you are lying on a cloud. Consists of:
- 2 layers of bolster fabric from exceptionally durable
virgin cotton.
- 4 layers of hand-teased A-lyx horsetail hair.
~ 10 layers of cotton and wool.
- 1 pocket spring system, 18 cm high, with Springs that
act individually and never hook into each other.
- 4 reinforced corner springs (covered in soft flax),
to ensure both comfort and stability when you sit
on the edge.
--Reinforced edge springs along sides, to prevent "
you from rolling out of the bed and to make it easier
to get up.
- Meticulously placed side-stitching, which increases
both stability and pliab-iiity.
- 4 robust handles on the long sides to make it easy
to turn the mattress.
BASE
Unwaveringly stable. Absorbs and distributes the
pressure from your body over the entire surface.
Consists of:
- 1 layer of bolster fabric of outstandingly durable
virgin cotton.
- 1 layer of hand-teased A-lyx horsetail hair.
- 2 layers of cotton and wool.
- 1 pocket spring system, 8 cm high, with springs that
act individually and never hook into each other.
- 2 layers of flax that provide sound insulation and
conduct static electricity away.
- 1 Bonnell spring system,13 cm high, with machine-
knotted coil springs.
- 1 frame in solid, slow-growing Swedish pine with
finger joints, 16.8 cm high.
- 1 layer of cotton lining that protects the bed
from below.
- Stylish corner fittings in brushed aluminum.
- Minimum 4 sturdy legs, recessed to prevent you
from stubbing your toes.
- 1 personal nameplate (can be engraved as required).
BJX Luxury Top Mattress
Natural air conditioning. The final touch of perfections as Hastens 2000T gently embraces you. Consists of:
2 layers of bolster fabric of outstandingly durable virgin cotton.

2 layers of cotton and wool.

2 layers of hand-teased A-lynx horsetail hair.

1 layer of cotton and wool.
Your Body is unique. You can be too.
You can customize your Hastens bed so that it's just right for you. There are over 20,000 possible combinations. Find out more on pages 234-279.
Sizes
Adjust the length and width in 0.5 cm increments (maximum size is 400 cm).

Full base of split base.

Square, rectangular or round shape.
FIRMNESS
Choose between soft, medium, firm, and extra firm
COLORS
Choose between 15 different original fabrics.
ACCESSORIES
Top mattresses, headboards, legs, bed skirts, pillows, down quilts, bed linen, etc.
Weight: 203.1 kg
Height: 55cm
Number of Layers: 34
When ordering the special anniversary edition of this bed from 11/8 through 2/4th, customers receive special edition complimentary gift package including...
1 sets of Hästens bed linen Stitch
1 sets of Hästens bed linen Hästar
1 sets of Hästens bed linen Vippvallmo
1 sets of Hästens bed linen Original Blue Check
2 Hästens bathrobes
2 Hästens pillows 2000T
1 Hästens eco-medium/light deluxe down quilts