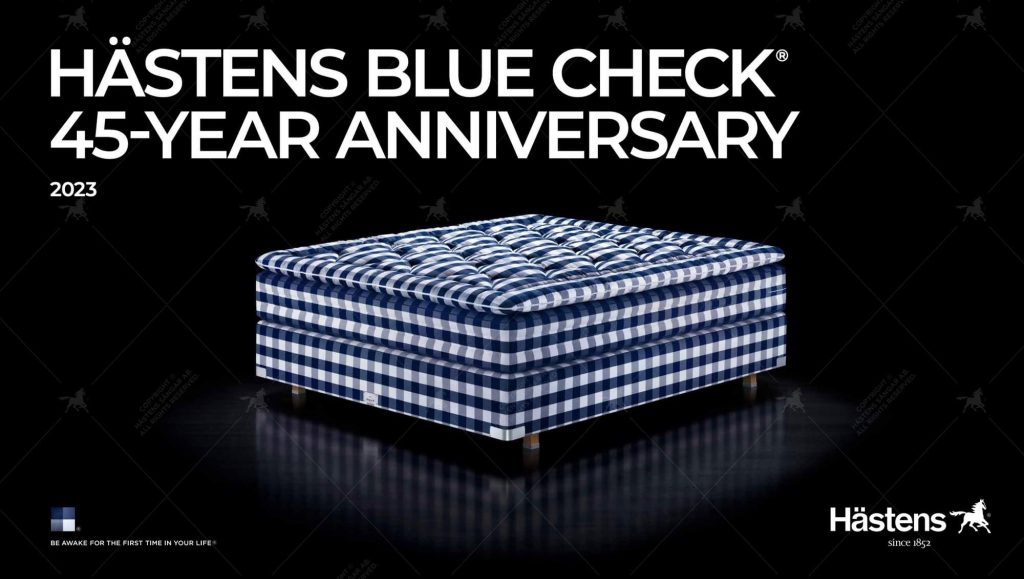 Bedtime is arguably one of the most important times of day. Getting the right amount of rest can be the difference between a day of exploring and feeling energized, or a day of exhaustion. People have been trying to perfect sleep since the beginning of time, and one of the world's leading mattress companies has had an iconic design in that pursuit for 45 years.
This year marks the 45th anniversary of Hästens' iconic Blue Check, a testament to the company's commitment to craftsmanship and quality. Blue Check is an indelible part of Hästens' identity and its legacy of creating luxury mattresses. The Blue Check is a classic design symbolizing generations of family traditions, product perfection, and simply a good night's sleep.
The original pattern was created in 1978 by Jack Ryde, the fourth generation of the Hästens family to lead the company. Ryde was dedicated to continually improving the quality of sleep by using natural materials and handcrafting each bed with care. The Blue Check was no exception. Woven into a tight weave with Swedish cotton, the pattern stands the test of time, providing support and comfort, while being resistant to water damage.
Today, the iconic Blue Check stands as a hallmark of Hästens brand excellence, proudly adorning some of the world's most luxurious mattresses. As we celebrate its 45th anniversary, it is a reminder of the company's continued mission to provide the best possible sleep experience. That is why Hästens is marking the occasion, hosting a decadent Scandinavian-inspired evening at the Hästens Miami Design District store, giving everyone the chance to celebrate the iconic Blue Check and the legendary Hästens 2000T bed.
No matter what sleeping preferences, whether its tight knots and Swedish cotton wraps like Hästens's iconic design, or something else, it's important to remember to get a good night's rest. It can be easy to forget when buried in the hustle and bustle of daily life, but a premiere luxury mattress and a good pillow can make all the difference.
Hästens and its Iconic Blue Check have been a part of the sleep experience for 45 years. They have been committed to achieving total comfort and a restful night's sleep every night, proving a legacy and commitment to quality craftsmanship each and every time. Join us at the Hästens's Miami Design District store to help us celebrate the 45th anniversary of this iconic luxury mattress, and to learn more about the importance of quality sleep and how to get a restful night each and every single night!