Details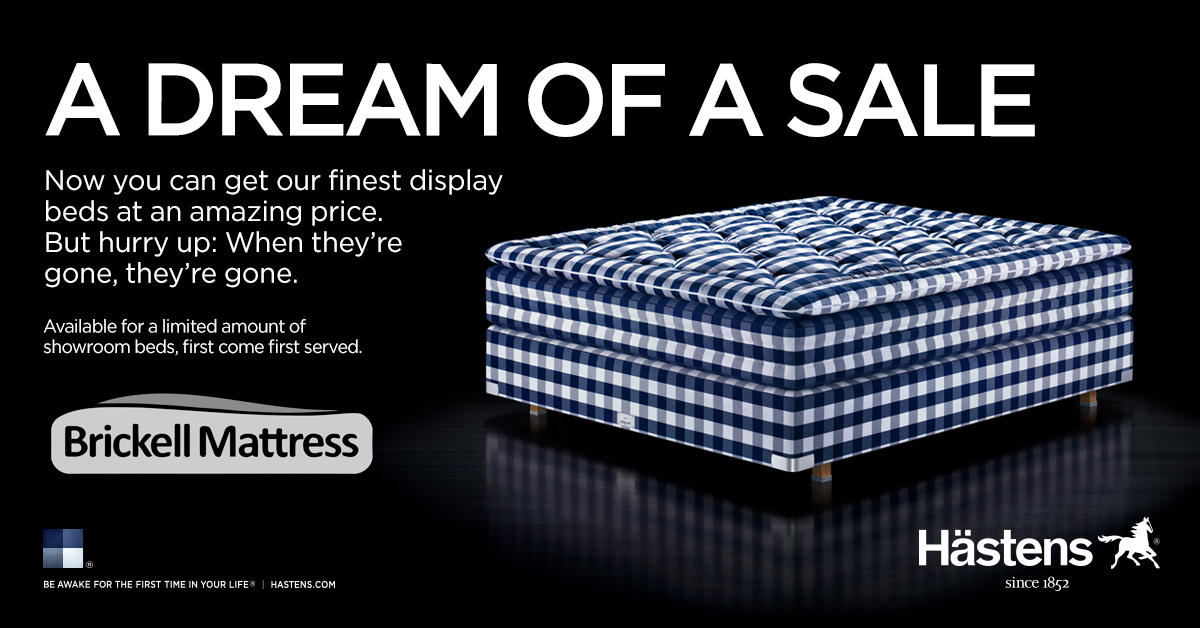 HASTENS EALA
When our master bed builders skillfully combine the finest horsetail hair, wool and cotton in balanced layers, something incredible is created: silent air conditioning. Moisture is transported away and fresh air circulates around your body. A natural way to create a fantastic environment for sleep.
HASTENS EALA
The bed that unites weightiness with fluffiness. And night with day.
In Hawaii, people say "E ala!" to wake each ocher. After your first night in a Hastens Eala, you will understand the reason for chis choice of name. You'll feel pleasantly refreshed as if you had woken from a deep slumber on a remote island.
How do we create such a refreshing climate for sleep? Using 100 kilograms of horsetail hair, wool, cotton and flax in multiple layers, each carefully joined by hand. Those natural materials are then wrapped in 26 square meters of blue-check cotton fabric, woven with a technique that we have been refining since the 19th century.
As with all of our beds, Hastens Eala is meticu­lously designed to keep you cool and dry. During the night the horsetail hair, wool and flax absorb the moisture produced by your body. The moisture is then transported away layer by layer and escapes through the sides of the bed. At the same time, fresh air circulates around each fiber enveloping your body. A sophisticated way to use the organic properties of nature's best materials.
To make the experience complete, Eala has two spring systems featuring flax-reinforced corners and dual side-stitching. The goal is that you feel total relaxation when you lie down. You begin to sink slowly into the bed's harmonious embrace with practically every contour of your body receiving precisely the support it needs. The objective is to help you fall quickly into a deep, undisturbed sleep, and maintain the optimal temperature all night.
However, the sensation we most want you to have sleeping in a Hastens Eala is not experienced until the next day when you feel more wakeful, in tune and positive. Or, put simply, a bit more like yourself.
HASTENS EALA
148.8 kilograms of climate control.
MIDDLE MATTRESS
Delightful softness combined with harmonic stability - plus an exquisite temperate sleeping climate. Consists of:
2 layers of bolster fabric from exceptionally durable virgin cotton.

2 layers of hand-teased J horsetail hair.

8 layers of cotton and wool.

1 pocket spring system, 15 cm high, with springs that act individually and never hook into each other.

4 reinforced corner springs (covered in soft flax), to ensure both comfort and stability when you sit on the edge.

Reinforced edge springs along all sides, to prevent you from rolling out of the bed and to make it easier to get up.

Meticulously placed side-stitching, which increases both stability and pliability.

4 robust handles on the long sides to make it easy to turn the mattress.
BASE
Forms the basis of the floating and wonderfully relaxing feeling you get in an Eala. Consists of:
1 layer of bolster fabric of outstandingly durable virgin cotton.

1 layer of cotton and wool.

2 layers of flax that provide sound insulation and conduct static electricity away.

1 Bonnell spring system, 13 cm high, with machine­ knotted coil springs.

1 frame in solid, slow-growing Swedish pine with finger joints, 9.2 cm high.

1 layer of cotton lining that protects the bed from below.

Minimum 4 sturdy legs, recessed to prevent you from stubbing your toes.
BJX LUXURY TOP MATTRESS
Natural air conditioning. The final touch of per­fection as Hastens Eala gently embraces you. Consists of:
2 layers of bolster fabric of outstandingly durable virgin cotton.

2 layers of cotton and wool.

2 layers of hand-teased A-lyx horsetail hair.

1 layer of cotton and wool.
YOUR BODY IS UNIQUE. YOUR EALA CAN BE TOO.
You can customize your Hastens bed so that it's just right for you. There are over 20,000 possible combinations. Find out more on pages 234-279.
SIZES
Adjust the length and width in 0.5 cm increments (maximum size is 400 cm).

Full base or split base.

Square, rectangular or round shape.
FIRMNESS
Choose between soft, medium, firm and extra firm.
COLORS
Choose between 14 different original fabrics.
ACCESSORIES
Top mattresses, headboards, legs, bed skirts, pillows, down quilts, bed linen, etc.
WEIGHT: 148.8 kg (180X210 cm)
HEIGHT: 48 cm (without legs)
NUMBER OF LAYERS: 27
When ordering the special anniversary edition of this bed from 11/8 through 2/4th, customers receive special edition complimentary gift package including...
1 sets of Hästens bed linen Stitch
1 sets of Hästens bed linen Hästar
1 sets of Hästens bed linen Vippvallmo
1 sets of Hästens bed linen Original Blue Check
2 Hästens bathrobes
2 Hästens pillows Eala
1 Hästens eco-medium/light deluxe down quilts