Details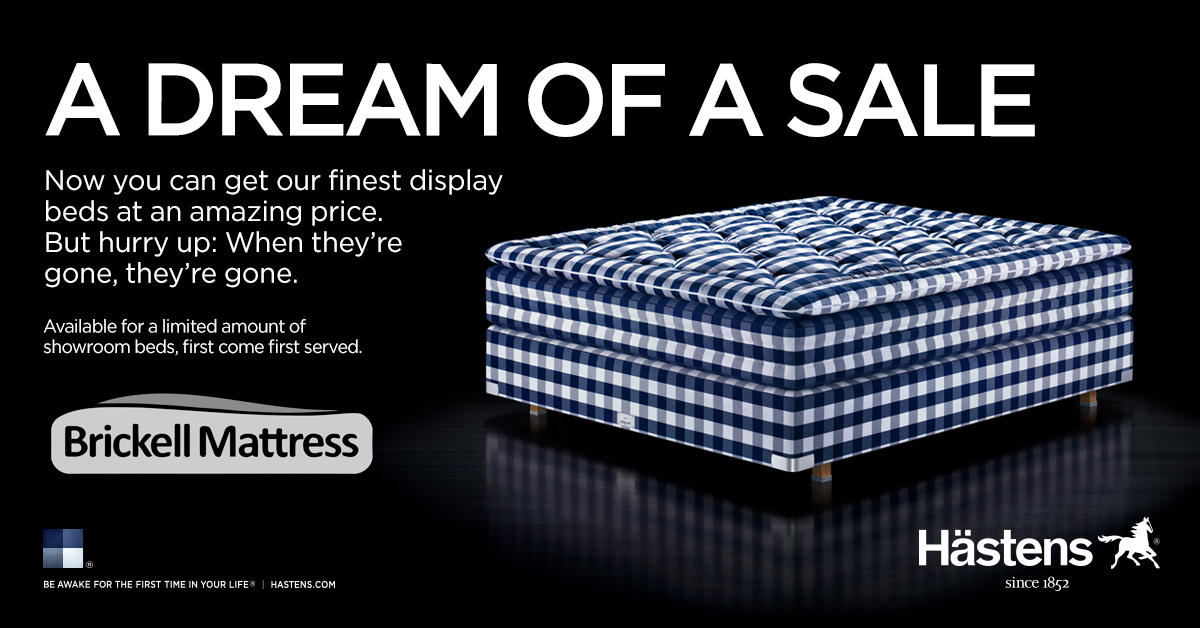 HASTENS SUPERIA
Watch out, this bed will fool you every evening. Your eyes tell you that the base of Superia bed is only 37 cm off the floor. But once you lie down and close your eyes, that expanse grows. To infinity, in fact.

HASTENS SUPERIA
The best frame bed we have ever built.
In our opinion, the feeling that comes from resting in a Hastens Superia can be described in a single word: bottomless. In the absence of resistance or pressure from below, you will sink almost weight­less into this bed. Just deep enough to keep your spine straight, whether you are lying on your side, stomach or back.
Our most amazing frame bed so far. Built to make you relax and wake up infinitely rested.
What you may not realize is that there is an entire universe of bed-making artistry beneath the surface: a double spring system, 14 layers of natural materials carefully selected and combined, all resting on a sturdy wooden frame. This, unfortu­nately, is a universe that you probably never will see. After we arrange this exquisite ensemble of horsetail hair, cotton, wool, flax, steel and wood, we hide it forever beneath a cloak of the finest fabric.
Like any masterpiece, the frame makes all the difference. Ours is built from northern Swedish pine, which grows particularly slowly and is therefore extra dense. Finger joints bind the four corners in a permanent embrace - entirely without screws or nails. The frame's weight and craftsman­ship make the bed both sturdy and deafeningly quiet. (Not unlike the Swedes who build it.)
Our goal with Superia was to evoke a feeling of bottomless comfort that will make you forget you're even lying on it. That's how Hastens helps make the most of your nights and the infinite possibilities that each new day brings.
HASTENS SUPERIA
128.6 kilograms of infinity.
BASE
Dual high spring system and multiple layers of different natural materials working together to make your body feel more or less weightless. Consists of:
1 layer of bolster fabric of outstandingly durable virgin cotton.

2 layers of cotton and wool.

1 layer of hand-teased horsetail hair.

1 pocket spring system, 15 cm high, with springs that act individually and never hook into each other.

4 reinforced corner springs (covered in soft flax), to ensure both comfort and stability when you sit on the edge.

Reinforced edge springs along all sides, to prevent you from rolling out of the bed and to make it easier to get up.

2 layers of flax that provide sound insulation and conduct static electricity away.

1 Bonnell spring system, 13 cm high, with machine­ knotted coil springs.

1 frame in solid, slow-growing Swedish pine with finger joints, 16.8 cm high.

1 layer of cotton lining that protects the bed from below.

Minimum 4 sturdy legs, recessed to prevent you from stubbing your toes.
BJX LUXURY TOP MATTRESS
Natural air conditioning. The final touch of per­fection as Hastens Superia gently embraces you. Consists of:
2 layers of bolster fabric of outstandingly durable virgin cotton.

2 layers of cotton and wool.

2 layers of hand-teased A-lyx horsetail hair.

1 layer of cotton and wool.
YOUR BODY IS UNIQUE. YOUR SUPERIA CAN BE TOO.
You can customize your Hastens bed so that it's just right for you. There are over 20,000 possible combinations. Find out more on pages 234-279.
SIZES
Adjust the length and width in 0.5 cm increments (maximum size is 225 cm).

Full base or split base.

Square, rectangular or round shape.
FIRMNESS
Choose between soft, medium, firm and extra firm.
COLOR
Choose between 14 different original fabrics.
ACCESSORIES
Top mattresses, headboards, legs, bed skirts, pillows, down quilts, bed linen, etc.
WEIGHT: 128.6 kg (180x210 cm)
HEIGHT: 37 cm (without legs)
NUMBER OF LAYERS: 17
When ordering the special anniversary edition of this bed from 11/8 through 2/4th, customers receive special edition complimentary gift package including...
1 sets of Hästens bed linen Original Blue Check
2 Hästens bathrobes
2 Hästens pillows Superia