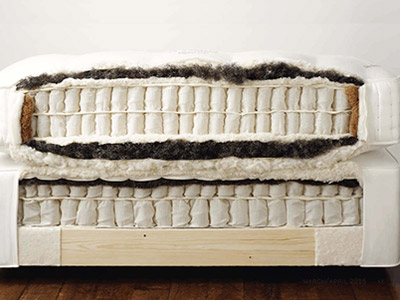 Brickell Mattress has been featured in South Florida Luxury Guide, a prestigious publication known to cater toward the exquisite tastes of the Sunshine State's most fashionable residents. It is a great honor to be featured alongside so many of the world's most upscale brands and businesses, and we are pleased to share the article here on the Brickell Mattress Blog! To read the full article, click on the image below.
Step into the Brickell Mattress showroom, and you will feel the hustle and bustle of busy Miami slowly fade away. Our gallery-inspired storefront presents each mattress as it might be found in your home, making it easier to judge comfort, quality, and desirability. Come in, lie down, and enjoy complimentary WiFi while trying latex, and our new Couture Collection. Sleep Experts are available to provide complimentary sleep consultation, product demonstrations, and much more.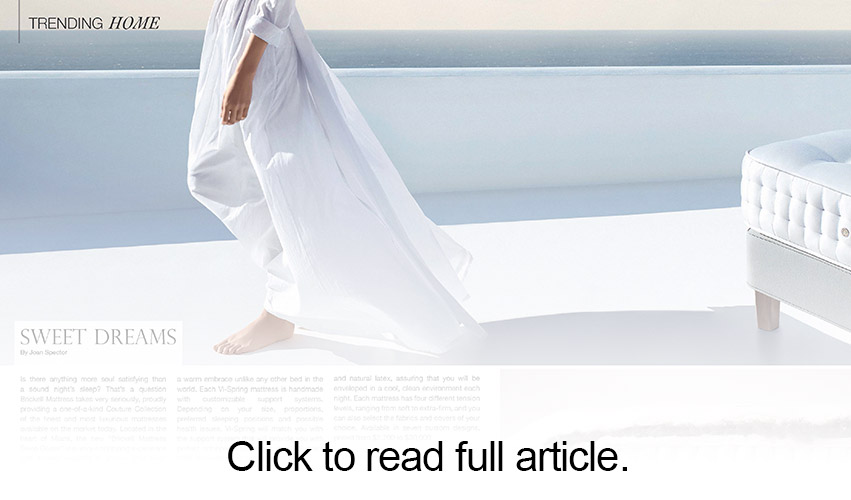 Best of the Best
The spotlight of the South Florida Luxury Guide article is undoubtedly Vispring, Britain's most famous ultra luxury bed maker. Founded in 1901 by the inventor of the innerspring mattress, James Marshall, Vispring represents more than a century of exceptional bespoke beds and mattress craftsmanship.
The use of 100% certified organic materials is one of the biggest selling points of Vispring mattresses, with customers being drawn to the cashmere, alpaca, and horsetail hair fills. Others choose Vispring to indulge in a brand that has a rich history of unparalleled luxury— a brand whose lavish mattresses donned the First Class cabins of the Titanic in 1912.
Seize the Day
Also featured in the South Florida Luxury Guide article is Carpe Diem, an ultra luxury bed and mattress brand that hails from Sweden. The company's eco-friendly materials and sustainable manufacturing process resonates with lux customers who actively look for ways to make smarter purchases that improve both personal and environmental health.
Every day is an adventure— will you be ready? That message is at the core of every Carpe Diem, and each bed is manufactured with high quality materials designed to improve sleep, health, and overall quality of life. An interior designer's dream come true, Carpe Diem features a variety of beds that are as beautiful as they are comfortable. Sharp aesthetics, adjustable bases, and customizable finishing touches give each Carpe Diem a look that is both unique and commanding.
Experience the Couture Collection at Brickell Mattress
At Brickell Mattress, our team of Sleep Experts specializes in helping customers find the ideal sleep solution for more restful nights that drive more fulfilling days. Shop the Couture Collection, and find a mattress that will be customized according to your height, weight, support needs, and sleep position preference. Our mattress showroom is conveniently located at 1030 SW 8th St., just outside of Miami's Brickell Financial District.
To reserve a sleep consultation or product demonstration, contact a Sleep Expert at 305-326-4000.