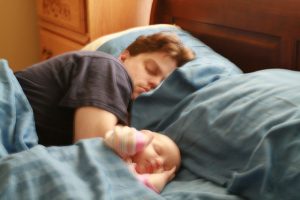 One of the most common things many of us do when we're sleeping is snoring. In most cases, it's nothing of concern. However, if snoring is consistent, it can lead to a reduction of sleep quality which, in turn, can result in several negative effects such as irritability, fatigue, and potential relationship strain due to a partner being unable to sleep.
The underlying reasons for snoring aren't quite as complicated as you may think. It happens when air flow encounters obstructions, causing a "rattle" in the tissues of the throat and nose which leads to the familiar snoring sound. People that sleep on their back, consume large amounts of alcohol, smoke, or are overweight all have greater odds of snoring.
So, how do you stop snoring? There are simple steps you can take. For starters, making some changes to the lifestyle such as weight control, not consuming alcohol before bedtime, and refraining from smoking can help. Ensuring your mattress is providing the proper support can also help. The brands we sell like Vispring and Hastens are renowned for their exceptional support.
Ready to stop snoring in 2019? Visit us at Brickell Mattress.
This update is by Brickell Mattress. We sell luxury beds and the world's top mattress brands: VISPRING Luxury Beds and mattresses, Hästens Since 1852 and Carpe Diem mattresses. We offer a sterling selection of mattresses including organic & natural latex, as well as handcrafted beds and innerspring mattresses. We also have a broad selection of bedroom furniture and accessories. With more than eight years of working in the bedding industry, we pride ourselves on being your premium quality sleep center in Miami-Dade County. Visit us online at http://www.brickellmattress.com, at our store located at 1030 SW 8th Street in Miami or give us a call at 305-326-4000 for more information.