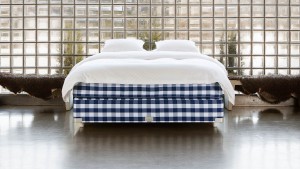 In our previous blog, we told you about the luxury lifestyle magazine Robb Report Online and its article talking about Swedish bed maker Hästens and the work that goes into creating its beds. Hästens is also mentioned in the printed version of the Robb Report, which has an even deeper look into the process of creating the company's one-of-a-kind beds.
Let's take a look at a brief overview. As one of the essential and sustainably sourced components of a Hästens bed, the horsetail hair is prepared to precise specifications before it is separated into varying lengths and micro curls prior to being teased and fluffed. The hand-teased horsetail hair provides moisture wicking, support, and air circulation to the mattress. Pine is also used, which is obtained from northern Sweden and is used to make the base of the mattress. Flax and cotton are also utilized to provide ventilation and dust blocking. Each mattress is then hand stitched with the spacing and quantity varying based on the Hästens model.
You can learn more about the Hästens process by picking up the January 2018 issue of the Robb Report, dubbed "The Travel Issue".
This update is by Brickell Mattress. We sell luxury beds and the world's top mattress brands: VISPRING Luxury Beds and mattresses, Hästens Since 1852 and CARPE DIEM BEDS OF SWEDEN. We offer a sterling selection of mattresses including organic & natural latex, as well as handcrafted beds and innerspring mattresses. We also have a broad selection of bedroom furniture and accessories. With more than eight years of working in the bedding industry, we pride ourselves on being your premium quality sleep center in Miami-Dade County. Visit us online at http://www.brickellmattress.com, at our store located at 1030 SW 8th Street in Miami or give us a call at 305-326-4000 for more information on Hastens mattresses or other brands.