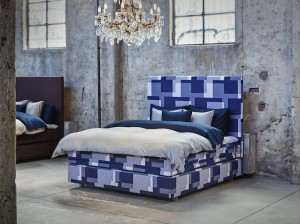 Luxe Daily is the digital counterpart to the Luxe Interiors + Design network of magazines in the United States. For more than a decade, the magazine has focused on covering the design industry, featuring prominent architects, builders, home design pros, and interior designers.
Last week, Luxe Daily published an article discussing Hästens in its "A Bedding Brand Put A New Spin On Its Signature Look" story. The article discusses Hästens breaking from its tradition of designing its textiles to use the creative prowess of Swedish design duo Bernadotte & Kylberg to create a new interpretation of the Swedish manufacturer's signature blue-checkered pattern.
The result of Bernadotte & Kylberg's work is the unveiling of the Marwari and Appaloosa, a pair of original takes on the iconic Hästens pattern. Appropriately, both mattresses are named after a pair of horse breeds, a tribute to Hästens and its longtime use of horse hair.
The Luxe Daily story goes extensively into how Bernadotte & Kylberg came up with their unique Hästens and it includes an interview with the duo. It's definitely worth a read!
This update is by Brickell Mattress. We sell luxury beds and the world's top mattress brands: VISPRING Luxury Beds and mattresses, Hästens Since 1852 and CARPE DIEM BEDS OF SWEDEN. We offer a sterling selection of mattresses including organic & natural latex, as well as handcrafted beds and innerspring mattresses. We also have a broad selection of bedroom furniture and accessories. With more than eight years of working in the bedding industry, we pride ourselves on being your premium quality sleep center in Miami-Dade County. Visit us online at http://www.brickellmattress.com, at our store located at 1030 SW 8th Street in Miami or give us a call at 305-326-4000 for more information on Hastens mattresses or other brands.