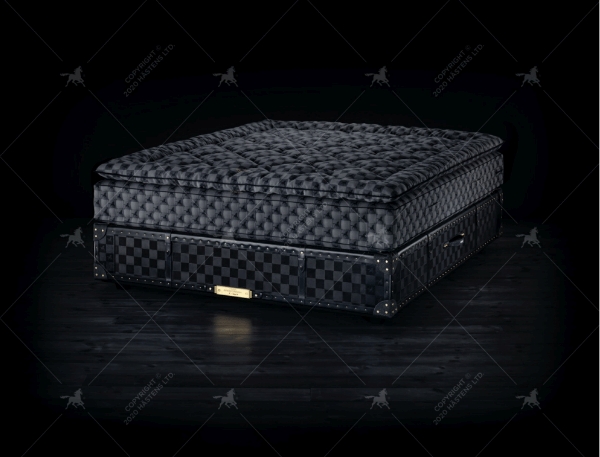 A good night's rest will make sure you wake up feeling rejuvenated and prepared to take on whatever the day has in store. It also enhances the immune system, which is especially important given the stressful times we're living in. Latest findings have also shown that deep sleep may decrease the risk of Alzheimer's disease.
To get the often recommended eight hours of sleep, making a conducive setting is instrumental. Although there may not be much that can be done about ambient noise, investing in a cozy, ergonomic bed is a perfect starting point.
The only lifestyle website aimed at those that lead affluent lives called Prestige recently took at "The Fanciest and Most Comfortable Beds Fit for a King (or Queen)". Among the beds mentioned is the Grand Vividus, a collaborative effort between Hästens and renowned designer Ferris Rafauli. We've told you about how this lavish, entirely handmade bed features a shagreen leather and golden brass nameplate frame alongside. In keeping with the Hästens tradition, it is made entirely of all-natural materials like cotton, horsehair, and wool.
This update is by Brickell Mattress. We sell luxury beds and the world's top mattresses brands: Hästens Since 1852, CARPE DIEM BEDS OF SWEDEN, and more. We offer a sterling selection of mattresses, including organic & natural latex, as well as handcrafted beds and innerspring mattresses. We also have a broad selection of bedroom furniture and accessories. With more than eight years of working in the bedding industry, we pride ourselves on being your premium quality sleep center in Miami-Dade County. Visit us online at http://www.brickellmattress.com, at our store located at 1030 SW 8th Street in Miami. Please call 305-326-4000, check out the website at www.brickellmattress.com or visit Brickell Mattress at 1030 SW 8th Street in the heart of Miami. Hästens mattresses are also sold at the Miami Design District: 112 NE 41 Street, Suite #100, Miami, FL 33137.