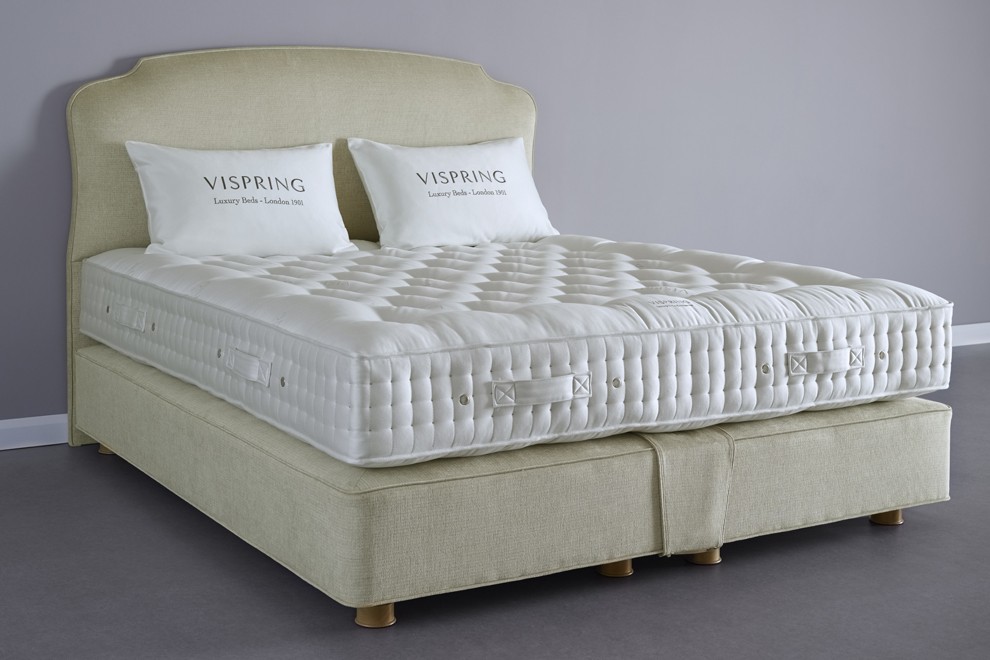 The Vispring Regal Superb is a wonderfully comfortable bed that couples seeking a competitively priced mattress are sure to love. This bed is one that the body and mind will appreciate with its inclination to provide a supportive and restful sleep for up to three decades. Each Vispring mattress is made by hand just like the Regal Superb, using a custom coil gauge. The Vispring Regal Superb was the manufacturer's first to debut horsetail in the comfort layers.
Apart from the horsetail hair, the Vispring Regal Superb is pack with all-natural materials like Shetland wool, British fleece wool and cotton bonded Platinum Certified. The breathability of the mattress is exceptional thanks to the horsehair. The Shetland wool has a super soft structure while remaining cool due to temperature regulation. The British fleece wool and cotton layer create a final one-two punch of luxurious softness.
A key feature of the Vispring Regal Superb is the custom coil system that is specifically tailored to individual body types and sleep preferences. For greater consistency and comfort, these coils are arranged in a honeycomb pattern, resulting in practically no gaps.
This update is by Brickell Mattress. We sell luxury beds and the world's top mattresses brands: VISPRING Luxury Beds and mattresses, Hästens Since 1852 and CARPE DIEM BEDS OF SWEDEN. We offer a sterling selection of mattresses including organic & natural latex, as well as handcrafted beds and innerspring mattresses. We also have a broad selection of bedroom furniture and accessories. With more than eight years of working in the bedding industry, we pride ourselves on being your premium quality sleep center in Miami-Dade County. Visit us online at http://www.brickellmattress.com, at our store located at 1030 SW 8th Street in Miami or give us a call at 305-326-4000 for more information on Vispring mattresses or other brands.