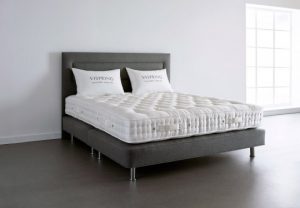 The elegant Vispring Devonshire mattress is indulgently intimate and supple, made with pure natural fillings to practically guarantee optimum comfort and luxury that will last you for decades. Its Platinum Certified Devonshire fleece wool and Platinum Certified British fleece wool collectively create layers over calico pocket springs nested by hand, resulting in incredible support and softness. As is the case with all Vispring mattresses, the Devonshire is wrapped in the finest Vispring ticking (Ticking 596 in stock). Furthermore, the upholstered borders also feature protective wool as well as a pair of rows of hand side-stitching and air vents on each side for maximum breathability.
You won't find any foams or synthetic materials of any sort when you sleep on the Vispring Devonshire or any Vispring mattress for that matter. Only natural materials are used to create a blissfully restful sleep on this mattress which remains the only model comprised of wool filling without cotton layers or other fibers.
This update is by Brickell Mattress. We sell luxury beds and the world's top mattress brands: VISPRING Luxury Beds and mattresses, Hästens Since 1852 and CARPE DIEM BEDS OF SWEDEN. We offer a sterling selection of mattresses including organic & natural latex, as well as handcrafted beds and innerspring mattresses. We also have a broad selection of bedroom furniture and accessories. With more than eight years of working in the bedding industry, we pride ourselves on being your premium quality sleep center in Miami-Dade County. Visit us online at http://www.brickellmattress.com, at our store located at 1030 SW 8th Street in Miami or give us a call at 305-326-4000 for more information on Hastens mattresses or other brands.