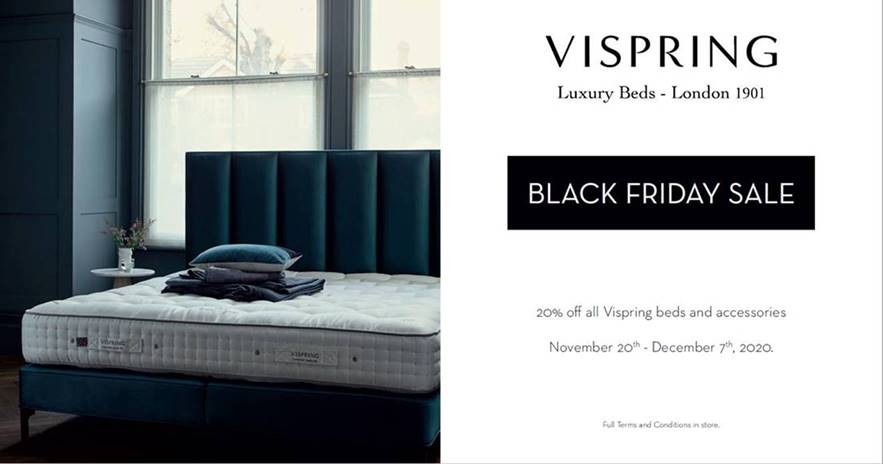 How much emphasis do you place on sleep? Are you someone who makes it a point to get at least seven hours each night or are you the type that feels they can manage with fewer hours? While at least seven is ideal, the comfort of your mattress is going to factor heavily into whether or not those hours result in genuinely restful sleep.
Why not upgrade your sleep experience in 2021 with Vispring? To help you do that, we're excited to offer 20% off Vispring beds during the Vispring Black Friday sales event! These are the beds that are used by royalty and even notable names in American history have slept on them, like the 35th president of the United States John F. Kennedy.
The Vispring Black Friday sales event runs from November 20th to December 7th.
This update is by Brickell Mattress. We sell luxury beds and the world's top mattresses brands: Hästens Since 1852, CARPE DIEM BEDS OF SWEDEN, and more. We offer a sterling selection of mattresses including organic & natural latex, as well as handcrafted beds and innerspring mattresses. We also have a broad selection of bedroom furniture and accessories. With more than eight years of working in the bedding industry, we pride ourselves on being your premium quality sleep center in Miami-Dade County. Visit us online at http://www.brickellmattress.com, at our store located at 1030 SW 8th Street in Miami. Please call 305-326-4000, check out the website at www.brickellmattress.com or visit Brickell Mattress at 1030 SW 8th Street in the heart of Miami. Hästens mattresses are also sold at the Miami Design District: 112 NE 41 Street, Suite #100, Miami, FL 33137.