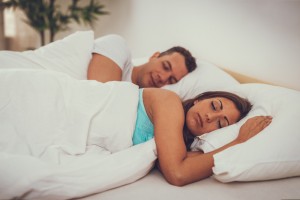 Do you share your bed with someone else? It can be frustrating sleeping alongside a significant other due to reasons such as snoring, heavy breathing, hogging the blanket, or constant tossing and turning. There are simple steps you can take to make sleeping with a partner easier for the both of you.
Stay away from technology. It's often been stated that using a smartphone or tablet before bedtime will disturb sleep and that remains true in couples. The light from a screen can affect circadian rhythms, which means less sleep for you and possibly your partner, potentially resulting in crankiness when waking up the next morning.
Choose the right mattress. Brands like Hästens and Vispring are renowned for their incredibly comfortable mattresses, but you still need to take into consideration how a mattress will feel when you're sleeping in it with someone else. Important factors to consider include the ability to minimize tossing and turning and the comfort based on your partner's preferred sleeping position (i.e.: side sleeping, sleeping on the back). A mattress with varying or adjustable levels of firmness can help tremendously.
Agree on a bedtime. You already know the importance of sticking to the same sleep schedule even on weekends. Going to bed at the same time means better sleep quality as there is no risk of affecting the other's person's sleep.
This update is by Brickell Mattress. We sell luxury beds and the world's top mattress brands: VISPRING Luxury Beds and mattresses, Hästens Since 1852 and CARPE DIEM BEDS OF SWEDEN. We offer a sterling selection of mattresses including organic & natural latex, as well as handcrafted beds and innerspring mattresses. We also have a broad selection of bedroom furniture and accessories. With more than eight years of working in the bedding industry, we pride ourselves on being your premium quality sleep center in Miami-Dade County. Visit us online at http://www.brickellmattress.com, at our store located at 1030 SW 8th Street in Miami or give us a call at 305-326-4000 for more information on Hästens mattresses or other brands.