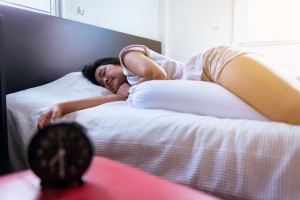 After a long, stressful workweek, sleeping in on a Saturday is one of the most enjoyable ways to relax and recover. You may have heard or read, however, that sleeping in on the weekend is not good for you…or is it? According to a recent Washington Post article, sleeping in may save your life.
A study published in the Journal of Sleep Research tracked the sleeping habits on weekdays and weekends of more than 30,000 participants over thirteen years. The study found that those who slept for five hours or less each night throughout the entire week did not live as long as those that slept for at least seven hours every night. The surprising part? Those who slept fewer than seven hours consistently but slept in for an additional hour or two during the weekends also had a better life expectancy as the people who always slept for seven hours each day.
The study still requires additional research, but it may give you a reason to sleep in on a Saturday. If you're having trouble staying asleep, it could be that your mattress is keeping you up at night. Considering how important it is to get a good night's sleep, a Hästens or Vi-Spring mattress might just the thing to help you live longer.
To read more about the study, please visit https://www.washingtonpost.com/news/speaking-of-science/wp/2018/05/23/people-who-sleep-in-on-weekends-avoid-dying-young-study-suggests/?noredirect=on&utm_term=.48e9a0816351.
This update is by Brickell Mattress. We sell luxury beds and the world's top mattress brands: VISPRING Luxury Beds and mattresses, Hästens Since 1852 and CARPE DIEM BEDS OF SWEDEN. We offer a sterling selection of mattresses including organic & natural latex, as well as handcrafted beds and innerspring mattresses. We also have a broad selection of bedroom furniture and accessories. With more than eight years of working in the bedding industry, we pride ourselves on being your premium quality sleep center in Miami-Dade County. Visit us online at http://www.brickellmattress.com, at our store located at 1030 SW 8th Street in Miami or give us a call at 305-326-4000 for more information on Hastens mattresses or other brands.