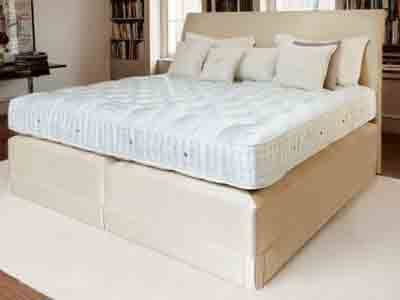 There is currently only luxury mattress boutique in the Florida region that provides the brand known by many as the best bed maker in the world. This store is Brickell Mattress of Miami, and the brand is Vi-Spring. One of the most luxurious mattress brands in the world, Vi-Spring of Great Britain produces mattresses that are truly unrivaled by any other company. If you are looking for the pinnacle of quality, comfort, luxury, elegance, durability, and use of natural materials, there is no other that exceeds Vi-Spring.
Vi-Spring boasts a rich European heritage of bed making, thriving over 100 years in the mattress industry, taking that time to perfect their designs and establish the reputation of best bed the world.
Inside the Vi-Spring
Established by Vi-Spring founder, James Marshall, in 1901, these masterful mattresses feature strong yet supple vanadium steel springs and a unique pocketed coil design for an exquisite sense of support that lasts. Vi-Spring mattresses are also known for their exotic yet sensible fills, the most well-known of which include:
Alpaca
Horsetail hair
Coconut husk
Cashmere
Bamboo
Silk
Organic cotton
Shetland Isle wool
After taking a moment to learn the heritage and materials bound to each Vi-Spring mattress, it is easy to see why many equate Vi-Spring with unparalleled support, superior breathability, and a cool night's rest that leaves you feeling rejuvenated in the morning.
A Handcrafted Mattress That Lasts for Decades
These beds are built to stand the test of time. While normal beds average a life of 10 years, the average Vi-Spring will hold up for as long as 30 years. Each bed is meticulously handcrafted for many hours, sometimes even a full day. With so much time invested into each perfect bed, Vi-Spring mattresses are works of art as much as they are places to get a good night's rest. This gives real meaning to the crowning model of the Vi-Spring collection, The Masterpiece, a mattress embodies and defines perfection. Vi-Spring mattresses are literally fit for royalty, seeing as the Queen of England sleeps on a Vi-Spring. Don't you too deserve to sleep like royalty?
Find Vi-Spring at Brickell Mattress
If you are interested in sleeping on the best beds in the world, contact Brickell Mattress today! It is a must that you come in and experience these beds for yourself; they are truly life-changing.
Brickell Mattress is located at 1030 SW 8th Street, Miami, FL 33130, come in today and start your one of a kind mattress experience. For more information go to www.brickellmattress.com or call 305-326-4000 to talk to a sleep professional who will guide you every step of the way.
Ask About Our Travel Program. If you are interested in seeing Vi-Spring beds in person, but you do not live in the area, Brickell Mattress will fly you down to the store for free! Call today, you have nothing to lose, and a lot of amazing sleep to gain.