Royal Pedic
When your mattress is favored by more than one President of the United States, you must be doing something right. For more than six decades and counting, Royal-Pedic has remained steadfast in its mission to promote a healthy sleep. Using a fusion of hypoallergenic and natural materials gathered from various parts of the world, each Royal-Pedic mattress is meticulously handcrafted to deliver a supremely restful night's sleep, whether it's a standard or custom size. Today, Royal-Pedic continues to fine-tune its standards to ensure customers have the absolute finest mattresses they can own.
Royal-Pedic's luxury mattresses are often favored by celebrities, sports stars, and yes, even political figures. Ronald Reagan was a huge fan of Royal-Pedic and so was John F. Kennedy who insisted on Royal-Pedic during his travels. Legendary basketball superstar Wilt Chamberlain still holds the record for having the largest custom Royal-Pedic mattress ever made at 10' x 10'!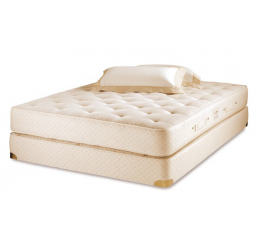 This is our rmest mattress, featuring multiple layers of pristine, staple cotton padding surrounding the Royal Flex® 800i, Swiss designed spring system. Traditional English hand tufting pre-compresses the cotton padding for rm, reliable back support. Optional Pillowtop Pads available to add surface plushness.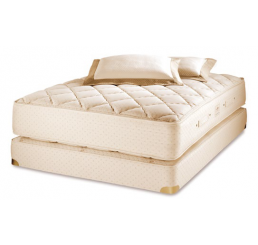 This mattress is exceptionally rm, yet with a plush surface feel. Handcrafted using layers of staple cotton padding that are hand inner-tufted to the Royal Flex® 800i spring system, and topped with Talalay latex, comfort ll, and French wool, to provide surface comfort, while maintaining buoyant support for the body.
For a truly luxurious night's sleep, this mattress offers rm support, and a plush surface feel with its attached Pillowtop Pads. It features our exclusive Royal Flex® 800i innerspring system, wrapped in staple cotton padding, topped with layers of untreated French wool, odorless comfort ll and Talalay latex cushioning in the pillowtop portions.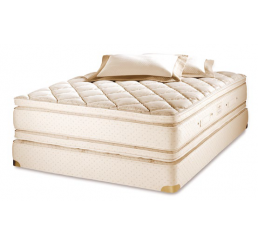 This is our top-of-the-line, most plush pillowtop innerspring mattress. With more Talalay latex cushioning than the Royal-Pedic Pillowtop Mattress, this mattress offers an even more luxurious and "cloud like" feel for extra soothing comfort to shoulders and hips.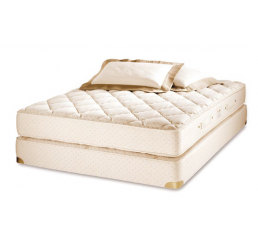 This is our plush latex mattress, featuring the Swiss designed, 7-Zone Talalay latex core. The breathable Belgian cotton covering is quilted with French wool, followed by comfort ll to provide a luxurious feel. It's a great choice on our box springs, as well as platform beds, and adjustable beds. Optional pillowtop pads available to add even more surface plushness.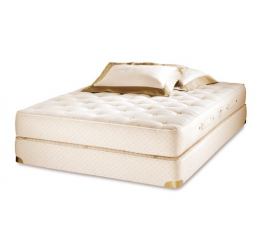 This latex mattress is our rmer latex version. The 7-Zone Talalay latex core is surrounded by staple cotton padding, and is hand tufted to secure the cotton in place to provide rmer support. The breathable cotton covering combined with the inner materials provide optimal ventilation. Optional pillowtop pads available to add plushness.