Details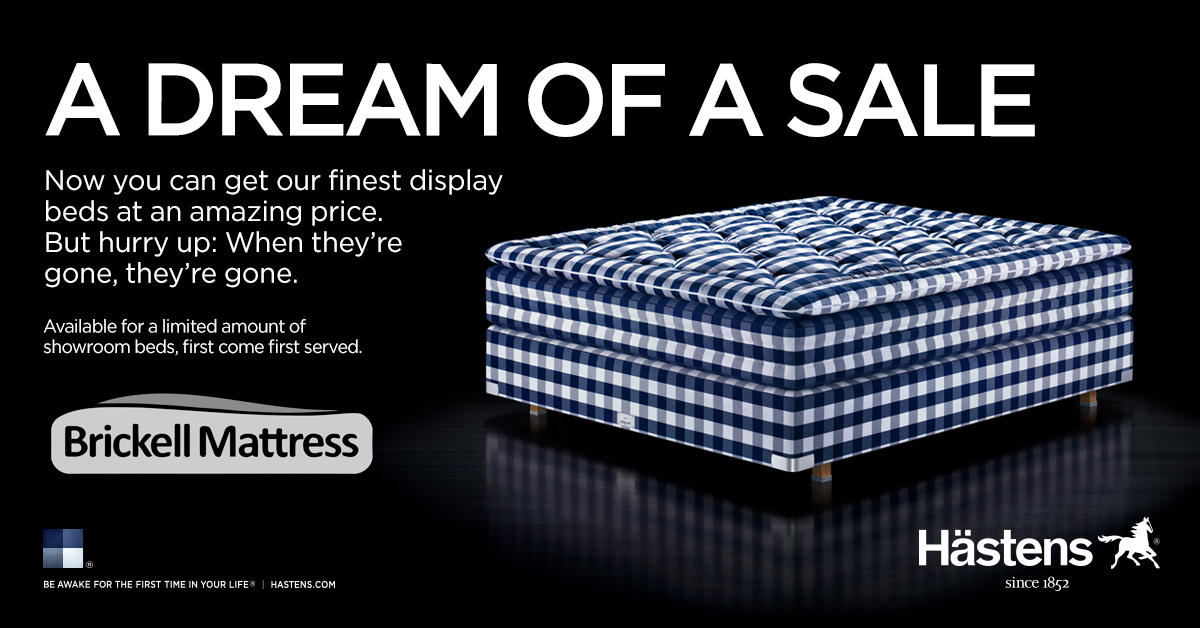 HASTENS MARQUIS
Do you dream of owning a Hastens bed? Here you have it. The original. It may be our simplest model but it doesn't lack any of Hastens' vision. (A word of warning, however, once you experience how a Marquis affects the quality of your days, it may serve as a gateway bed to our heavier models.)
HASTENS MARQUIS
One hundred percent Hastens, in all its simplicity.
Marquis includes everything that made Hastens one of the world's most sought-after and iconic bed brands. It reflects our obsession with creating beds to make you sleep well - or rather, char make you more awake. For it's how you feel all night that determines how you feel all day.
Horsetail hair, wool and cotton are crafted by hand in a unique layer-upon-layer technique by our highly skilled bed builders. Craftsmanship makes chis bed responsive and pliable with just the right degree of firmness. The natural fibers provide another dimension of comfort as they transport moisture away and allow air to circulate so chat you can remain cool and dry all night long.
A double spring system helps every part of your body get the support it needs to relax. Each pocket spring reacts independently, which means that your partner can move without disturbing you.
Flax is used in the base to provide sound insulation and to conduct static electricity away. Sturdy finger joints connect planks of slow­ growing, northern Swedish pine to form the solid wood frame. And, of course, everything is wrapped in our wonderfully soft fabric made from durable cotton.
Marquis boasts one more ingredient: 166 years of bed-building expertise. Ir may be our sim­plest model, but it lacks none of the tradition, craftsmanship or quality materials found in every Hastens bed. That's why we are convinced: Try Marquis for just 15 minutes and it will change your view of sleep forever.
HASTENS MARQUIS
106.5 kilograms of the genuine Hastens experience.
BASE
A clean and low profile with a double spring system that is on the firmer side. Consists of:
1 layer of bolster fabric of outstandingly durable virgin cotton.

2 layers of cotton and wool.

1 layer of hand-teased horsetail hair.

1 pocket spring system, 13 cm high, with springs that act individually and never hook into each other.

4 reinforced corner springs (covered in soft flax), to ensure both comfort and stability when you sit on the edge.

Reinforced edge springs along all sides, to prevent you from rolling out of the bed and to make it easier to get up.

2 layers of flax that provide sound insulation and conduct static electricity away.

1 Bonnell spring system, 6.7 cm high, with machine­knotted coil springs.

1 frame in solid, slow-growing Swedish pine with finger joints, 9.2 cm high.

1 layer of cotton lining that protects the bed from below.

Minimum 4 sturdy legs, recessed to prevent you from stubbing your toes.
BJX LUXURY TOP MATTRESS
Natural air conditioning. The final touch of
perfection as Hastens Marquis gently embraces you. Consists of:
2 layers of bolster fabric of outstandingly durable virgin cotton.

2 layers of cotton and wool.

2 layers of hand-teased A-lyx horsetail hair.

1 layer of cotton and wool.
YOUR BODY IS UNIQUE. YOUR MARQUIS CAN BE TOO.
You can customize your Hastens bed so that it's just right for you. There are over 20,000 possible combinations. Find out more on pages 234-279.
SIZES
Adjust the length and width in 0.5 cm increments (maximum size is 225 cm).

Full base or split base.

Square, rectangular or round shape.
FIRMNESS
Choose between soft, medium, firm and extra firm.
COLORS
Choose between 14 different original fabrics.
ACCESSORIES
Top mattresses, headboards, legs, bed skirts, pillows, down quilts, bed linen, etc.
WEIGHT: 106.5 kg (180x210 cm)
HEIGHT: 28 cm (without legs)
NUMBER OF LAYERS: 17
When ordering the special anniversary edition of this bed from 11/8 through 2/4th, customers receive special edition complimentary gift package including...
1 sets of Hästens bed linen Original Blue Check
2 Hästens bathrobes