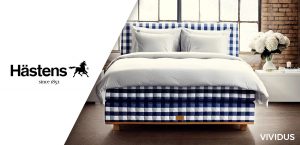 When it comes to mattresses like those made by Swedish manufacturer Hästens, a lot of the attention is placed on the price tag. This is certainly understandable, but can you really put a price on something you do every day which also affects your mental and physical health? This is where a bit of research and consideration can come into play.
The Jackson Hole News & Guide recently shed some light on Hästens after a Jackson, Wyoming based store became the first in all of the Intermountain West to earn the status of a Hästens dealer. As the owner of the store puts it, the carefully handmade beds are "hand-down-to-your-grandchild beds" and as the article puts it, "…it's not the money but what you get for it."
Hästens beds take over 300 hours to make and if you've read about how the beds are made in their factory, it's refreshing to know that these are being made using the meticulous skill and attention of artisans versus another robotic assembly line. Plus, they continue to use only natural materials like horsehair to create what many would agree are the most comfortable beds in the world that can also regulate body temperature and remove the effects of static electricity.
If you don't live anywhere near Wyoming, no worries! You can visit Brickell Mattress right here in Miami and check out a Hästens mattress in person.
Also be sure to check out the "Hästens: an expensive bed — but people buy it" article to learn more.
This update is by Brickell Mattress. We sell luxury beds and the world's top mattress brands: VISPRING Luxury Beds and mattresses, Hästens Since 1852 and CARPE DIEM BEDS OF SWEDEN. We offer a sterling selection of mattresses including organic & natural latex, as well as handcrafted beds and innerspring mattresses. We also have a broad selection of bedroom furniture and accessories. With more than eight years of working in the bedding industry, we pride ourselves on being your premium quality sleep center in Miami-Dade County. Visit us online at http://www.brickellmattress.com, at our store located at 1030 SW 8th Street in Miami or give us a call at 305-326-4000 for more information on Hästens mattresses or other brands.