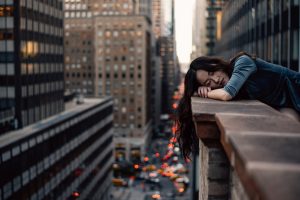 Even when we're asleep, the brain still manages to do a lot of work. Hence, sleep is absolutely essential to ensuring the brain remains healthy. In fact, it's so important that a couple of recent studies reveal some surprising results. Going as little as one night without sleep can negatively affect memory, metabolism, and even increase the chances of developing Alzheimer's, anxiety, and more.
A University of California at Berkeley examined the effect of a single night's loss of sleep on anxiety and emotion regulation in several young adults in good health. After just one night of complete sleep deprivation, participants showed an increase of more than 25% in anxiety levels, compared to how they felt the previous night. The difference was further reinforced when their brains were scanned: Those that were dealing with sleep deprivation showed greater activity in the amygdalae, the brain center responsible for anxiety and fear.
Is your mattress what's causing your sleep deprivation? Your brain should always remain in top shape, which is why we encourage you to visit Brickell Mattress and try a mattress by Vispring or Hastens to discover the difference. With these mattresses, you'll fall asleep easier and reduce the odds of tossing and turning.
To read more about the study, visit https://www.forbes.com/sites/alicegwalton/2019/01/26/new-insights-on-how-sleep-deprivation-affects-body-and-mind/#ac12d3178be1.
This update is by Brickell Mattress. We sell luxury beds and the world's top mattress brands: VISPRING Luxury Beds and mattresses, Hästens Since 1852 and CARPE DIEM BEDS OF SWEDEN. We offer a sterling selection of mattresses including organic & natural latex, as well as handcrafted beds and innerspring mattresses. We also have a broad selection of bedroom furniture and accessories. With more than eight years of working in the bedding industry, we pride ourselves on being your premium quality sleep center in Miami-Dade County. Visit us online at http://www.brickellmattress.com, at our store located at 1030 SW 8th Street in Miami or give us a call at 305-326-4000 for more information on Hastens mattresses or other brands.