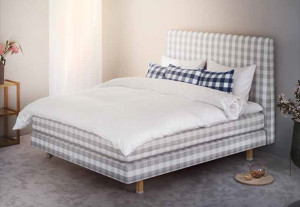 Here's a fun fact: Did you know Hästens is celebrating its 165th birthday this year? To celebrate the incredible accomplishment and its many innovations in creating a better sleep experience, the company has introduced a limited edition bed to honor its illustrious roots while maintaining its modern flourishes and its never-ending quest to create a supremely comfortable bed.
The Hästens Tribute is a Special Edition bed designed in an elegant, modern taupe check. Taupe is frequently utilized in the design world and is known for being a versatile tone when applied towards modern interiors. As you would expect of a Hästens bed, the Tribute is made strictly by hand in the company's native Sweden by a passionate team who have been perfecting the unique Hästens technique for over a century.
How special is the Hästens Tribute? It's so exclusive, the bed will only be available until the end of the month! If you purchase one, we'll even give you 15% off of the beautiful Hästens Luxuria, an attractively low-profile bed.
This update is by Brickell Mattress. We sell some of the world's top mattress brands including Hastens mattresses and Vispring. We offer a sterling selection of mattresses including latex, innerspring, and we also have a broad selection of bedroom furniture and accessories. With more than eight years of working in the bedding industry, we pride ourselves on being your premium quality sleep center in Miami-Dade County. Visit us at 1030 SW 8th Street in Miami or give us a call at 305-326-4000 for more information.