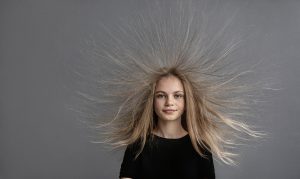 Are you suffering from a lack of sleep? Does it seem like you just can't find a comfortable position? Maybe the stress of the day has the body feeling tense and you may not even realize it. While there are countless reasons as to why you're having trouble falling asleep or staying asleep, one reason that most people tend not to think about too much is the effects of static electricity on the body.
Static electricity is a result of electrical equipment and the friction caused by synthetic furnishings. This friction may develop during sleep. You may, for example, be sleeping near a power cord (i.e.: your mobile phone charger) or perhaps the night shade you use is causing your body to be exposed to this static electricity. Hence, it is important to take into account where your bed is located. The potential to be exposed to static electricity also reinforces the importance of trying to get into the habit of sleeping in a bedroom that is as free of electronics as possible, including a television.
The human body is comprised of ions that are negative and positive. While they typically balance each other out without issue, the aforementioned friction could lead to sleep disruption as well as negative side effects such as stress or even anxiety. The materials that your mattress is made out of can also contribute to poor sleep if it uses materials such as polyester or nylon, for example.
Hästens has earned a sterling reputation for creating what many would agree are the world's most comfortable beds, and their grounding effect plays a major role in this comfort. Hästens beds are entirely and meticulously handmade by professional artisans using only natural materials. These materials include horsehair, cotton, wool, and flax, which collectively create this effect where they remove static electricity from the body that has accumulated throughout the day, pulling it away from the body as you sleep. As a result, once you wake up the following day, there is a genuine sense of rejuvenation, relaxation, and plenty of energy to take on whatever the day has in store for you.
This update is by Brickell Mattress. We sell luxury beds and the world's top mattress brands: VISPRING Luxury Beds and mattresses, Hästens Since 1852 and CARPE DIEM BEDS OF SWEDEN. We offer a sterling selection of mattresses including organic & natural latex, as well as handcrafted beds and innerspring mattresses. We also have a broad selection of bedroom furniture and accessories. With more than eight years of working in the bedding industry, we pride ourselves on being your premium quality sleep center in Miami-Dade County. Visit us online at http://www.brickellmattress.com, at our store located at 1030 SW 8th Street in Miami or give us a call at 305-326-4000 for more information on Hastens mattresses or other brands.