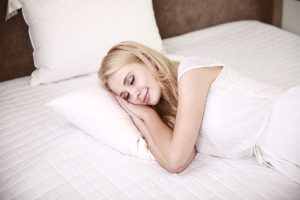 Did you know that according to the CDC, one in every three adults does not get a sufficient amount of sleep? With the year coming to a close, it may be a wise idea to consider prioritizing sleep as one of your New Year's resolutions, along with any others you may have such as exercising regularly or adopting better eating habits.
One way to get started with improving your sleep hygiene is to try and get into the habit of absorbing plenty of sunlight during the daylight hours and then limiting exposure to light when night falls. This also means perhaps going without that cup of coffee once you've had dinner.
Another way to improve your sleep in 2019 is one you may have heard before. You probably have a certain sleep schedule that you follow during the weekdays. Consider sticking to that same schedule even on weekends when you're tempted to go to bed later or sleep in. Consistency is key in getting the body used to schedule where you'll wake up naturally.
Finally, come up with a routine that does not involve electronics. That means resisting the urge to use your smartphone or any electronic device at least an hour before going to bed and using the bedroom strictly for sleep. Maybe sprinkle some lavender oil on the sheets or reduce the brightness of the lights.
Don't forget to invest a good mattress in 2019 that provides back support. With names like Hastens and Vispring, you'll be better able to stick your routine and resolution.
This update is by Brickell Mattress. We sell luxury beds and the world's top mattress brands: VISPRING Luxury Beds and mattresses, Hästens Since 1852 and CARPE DIEM BEDS OF SWEDEN. We offer a sterling selection of mattresses including organic & natural latex, as well as handcrafted beds and innerspring mattresses. We also have a broad selection of bedroom furniture and accessories. With more than eight years of working in the bedding industry, we pride ourselves on being your premium quality sleep center in Miami-Dade County. Visit us online athttp://www.brickellmattress.com, at our store located at 1030 SW 8th Street in Miami or give us a call at 305-326-4000 for more information on Hastens mattresses or other brands.