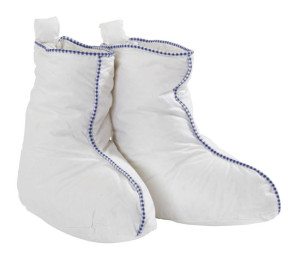 If there's one person who can be relied upon to deliver impeccable décor advice, it would definitely be lifestyle maven, television personality, and businesswoman Martha Stewart. With a successful media empire, Stewart's advice has been used many to create inviting living experiences.
Among the several publications Martha Stewart has emblazoned her name on, one of them is Martha Stewart Weddings, a quarterly magazine which focuses on all things matrimony related. The Winter 2017 issue includes a product roundup centered around "Hygge", a Scandinavian concept focused on coziness and comfortable conviviality with feelings of well-being and happiness. Hygge has since become an important facet of certain Scandinavian cultures since it was introduced in the 19th century.
When it comes to names like Swedish manufacturer Hästens, most people know comfort and well-being are key characteristics of its products. As such, the Hästens Down Slipper Boots are one of the products featured in Martha Stewart Weddings. These slippers are ultra comfortable, made with goose down and feathers to deliver pillow-soft cushioning.
Until the 31st, you can snag a pair of these boots for free with the purchase of a Hästens mattress! Visit our store for more information to discover why Hästens makes some of the world's finest and most comfortable beds.
This update is by Brickell Mattress. We sell some of the world's top mattress brands including Hastens mattresses and Vispring. We offer a sterling selection of mattresses including latex, and innerspring and we also have a broad selection of bedroom furniture and accessories. With more than eight years of working in the bedding industry, we pride ourselves on being your premium quality sleep center in Miami-Dade County. Visit us online at http://www.brickellmattress.com, at our store located at 1030 SW 8th Street in Miami or give us a call at 305-326-4000 for more information.