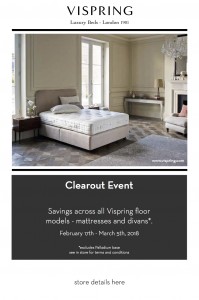 When it comes to some of the world's finest bed companies, British company Vispring is certainly among the upper echelon. Since its founding in 1901, the company has become renowned for its handmade beds utilizing natural materials such as silk, cashmere, wool, mohair, horsehair, and more. On top of that, it has cemented its place in history by being the first English bed maker to use the groundbreaking Marshall coil. Today, Vispring mattresses are frequently named as the brand of choice for notable figures, including royalty such as Queen Elizabeth II.
If you have yet to experience what it's like to sleep like royalty on a Vispring mattress, you'll definitely want to check out our President's Day Clearout Event! Beginning on February 17th until March 5th, you can save big on all Vispring floor models at the Brickell Mattress store! We invite you to discover and see for yourself why this brand has achieved worldwide recognition for its exquisitely comfortable beds.
This update is by Brickell Mattress. We sell luxury beds and the world's top mattress brands: VISPRING Luxury Beds and mattresses, Hästens Since 1852 and CARPE DIEM BEDS OF SWEDEN. We offer a sterling selection of mattresses including organic & natural latex, as well as handcrafted beds and innerspring mattresses. We also have a broad selection of bedroom furniture and accessories. With more than eight years of working in the bedding industry, we pride ourselves on being your premium quality sleep center in Miami-Dade County. Visit us online at http://www.brickellmattress.com, at our store located at 1030 SW 8th Street in Miami or give us a call at 305-326-4000 for more information on Vispring mattresses or other brands.