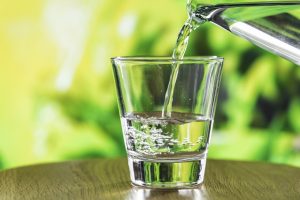 We all know that a good night's sleep keeps the body and mind in good shape and may prevent lots of illnesses. In case you needed yet another reason to get to bed on time, a recent study suggests that sleeping less than six hours a night will result in another body ailment: dehydration.
Sure enough, researchers discovered that people who slept less than six hours a night showed greater odds of being hydrated, as much as 59 percent compared to those that regularly slept eight hours. The researchers believe this may be due to a hormone in the body called vasopressin which the body regularly releases throughout the day to keep fluid levels manageable. The hormone is released on a quicker basis and later on during the sleep cycle. Because it makes sure that the body doesn't lose excess water during sleep, vasopressin is unable to properly do its job, resulting in dehydration.
One of the numerous reasons why people don't get enough sleep or suffer from insomnia is due to having an uncomfortable mattress. With a Vispring or Hastens mattress, there is practically no such thing as tossing and turning as these beds are world-renowned for their optimum comfort and ability to help people fall asleep in a few minutes versus hours. Come to Brickell Mattress and try one today!
This update is by Brickell Mattress. We sell luxury beds and the world's top mattress brands: VISPRING Luxury Beds and mattresses, Hästens Since 1852 and Carpe Diem mattresses. We offer a sterling selection of mattresses including organic & natural latex, as well as handcrafted beds and innerspring mattresses. We also have a broad selection of bedroom furniture and accessories. With more than eight years of working in the bedding industry, we pride ourselves on being your premium quality sleep center in Miami-Dade County. Visit us online at http://www.brickellmattress.com, at our store located at 1030 SW 8th Street in Miami or give us a call at 305-326-4000 for more information.