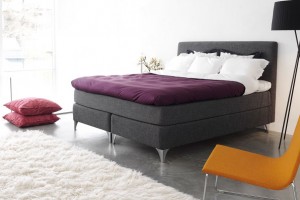 Most people have circumstances out of their control when it comes to falling asleep. Perhaps there is a noisy pooch that likes to practice its bark during the late hours. And then there are the factors that one can do something about to create a bedroom that will help lull you to sleep. One of the easiest things you can start doing is getting rid of the electronics.
The thought of not being able to watch television in bed may seem ludicrous, but the more you can reinforce an environment that is meant for sleeping, the easier it will be to get some rest when you aren't being kept awake by the glare of a television or smartphone screen.
You may also want to consider the décor. According to the National Sleep Foundation, using soft pastels or "cool neutral" colors in your bedroom will help with making you feel relaxed and at peace, reinforcing a calm environment. As for the lighting, investing in lights where you can control the amount of brightness can also help tremendously.
As you might guess, your mattress is also of great importance. With names like Hästens and Vispring creating some unbelievably comfortable sleeping experiences that are also eye-catching, you can rest assured that your bed will definitely go with the décor as you drift off into a blissful rest.
To read more, visit https://lancasteronline.com/features/home_garden/good-design-can-result-in-a-good-night-s-sleep/article_a4cf24b6-48ba-11e8-9254-27369d9abb69.html.
This update is by Brickell Mattress. We sell luxury beds and the world's top mattress brands: VISPRING Luxury Beds and mattresses, Hästens Since 1852 and Carpe Diem mattresses. We offer a sterling selection of mattresses including organic & natural latex, as well as handcrafted beds and innerspring mattresses. We also have a broad selection of bedroom furniture and accessories. With more than eight years of working in the bedding industry, we pride ourselves on being your premium quality sleep center in Miami-Dade County. Visit us online at http://www.brickellmattress.com, at our store located at 1030 SW 8th Street in Miami or give us a call at 305-326-4000 for more information on Hastens mattresses or other brands.