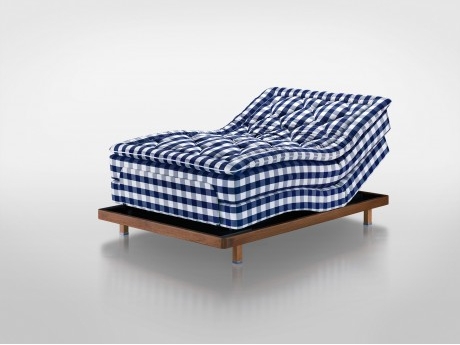 Most mattress designs mean that you're forced to lay flat when there may be instances where you wish to sit up. The Hästens Lenoria is a state-of-the-art, adjustable bed that offers the matchless comfort that Hästens is known for plus the option of raising the bed to fit various sleeping positions. A unification of handmade art and precise engineering, it's certainly the ultimate sleeping experience for lazy days when staying in bed sounds like a productive use of your time.
Not only is the Hästens Lenoria adjustable, but it also boasts state-of-the-art technology features such as Bluetooth which makes it easy to change the bed using your smartphone or tablet if you don't use the included device. Even with so much modernism packed into the bed, you're only going to find all-natural materials such as horsetail hair, flax, wool, and cotton to create a maximally comfortable, superbly soft sleeping experience where moving around won't affect your partner, no matter how many times you change positions.
The Hästens Lenoria has a special lateral sliding motion that allows it to maintain a distance as it moves between the wall and bed. The mattress motors are environmentally conscious and certified by EcoDesign Mandate, utilizing a mere just 0.5W of standby power. Like most Hästens mattresses, you can adjust the Lenoria to your needs without compromising its efficiency or exceptional comfort.
This update is by Brickell Mattress. We sell luxury beds and the world's top mattresses brands: VISPRING Luxury Beds and mattresses, Hästens Since 1852, and CARPE DIEM BEDS OF SWEDEN. We offer a sterling selection of mattresses including organic & natural latex, as well as handcrafted beds and innerspring mattresses. We also have a broad selection of bedroom furniture and accessories. With more than eight years of working in the bedding industry, we pride ourselves on being your premium quality sleep center in Miami-Dade County. Visit us online at http://www.brickellmattress.com, at our store located at 1030 SW 8th Street in Miami or give us a call at 305-326-4000 for more information on Hästens mattresses or other brands.