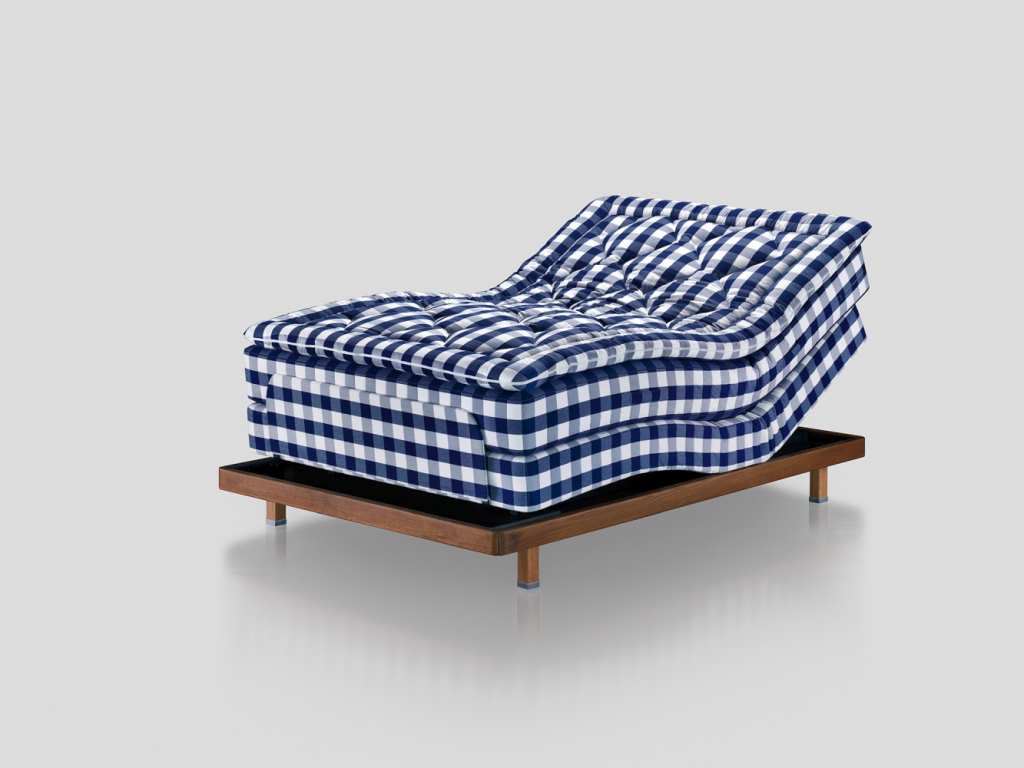 The majority of mattresses feature a design that forces you to sleep in a fixed position (flat), but why should that be the case? The Hästens Lenoria is an ultra-modern, adjustable bed that provides the unrivaled comfort Hästens is known for plus the option to raise the bed to accommodate different sleeping positions. A fusion of handcrafted artistry and meticulous engineering, it is undoubtedly the ultimate sleeping experience for those lazy days when you don't want to do anything and staying in bed sounds like the most productive way to spend the day.
The Hästens Lenoria is not only adjustable, it also comes with the latest technology features like Bluetooth which makes it easy to adjust the bed using your smartphone or tablet if you're not using the included controller. Even with all of these forward-thinking features, the bed is comprised of all-natural materials such as horsetail hair, flax, wool, and cotton to create a supremely comfortable, wonderfully soft sleeping experience where movement won't wake up your partner regardless of how many times you change positions.
The Hästens Lenoria has a unique sliding lateral movement that allow it keep a distance between the wall and the bed as it adjusts. The mattress motors are environmentally friendly and EcoDesign Directive certified, using just 0.5W of power on standby. Like the majority of Hästens mattresses, the Lenoria can be adjusted to your needs without sacrificing its performance or optimum comfort.
This update is by Brickell Mattress. We sell luxury beds and the world's top mattress brands: VISPRING Luxury Beds and mattresses, Hästens Since 1852 and CARPE DIEM BEDS OF SWEDEN. We offer a sterling selection of mattresses including organic & natural latex, as well as handcrafted beds and innerspring mattresses. We also have a broad selection of bedroom furniture and accessories. With more than eight years of working in the bedding industry, we pride ourselves on being your premium quality sleep center in Miami-Dade County. Visit us online at http://www.brickellmattress.com, at our store located at 1030 SW 8th Street in Miami or give us a call at 305-326-4000 for more information on Hästens mattresses or other brands.