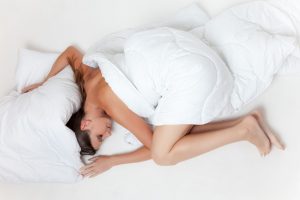 Have you ever woken up with your neck feeling unusually stiff? If so, you may have automatically assumed it was because you slept in a bad position. Though there isn't much you can do once you drift off to sleep in terms of adjusting your position, there are a couple of signs that may indicate your mattress isn't providing the support to ensure you aren't tossing and turning into some awkward positions.
Tingling and numbness. If your arm or hands tingle, it could be you aren't sleeping the right way. Sleeping on your side, for example, can put pressure on the nerves in your arm or hand. One option if you are a side sleeper is to purchase a contoured pillow.
Wrist or elbow irritation. That tingling sensation could also happen if your wrist or elbow is bent for a prolonged period. It's not uncommon for people to grab onto their pillow or place their hand underneath the pillow for greater support. This is also common when you wake up in the morning to turn off your alarm and your hand has "fallen asleep".
Chronic pain. Stomach sleeping can cause back strain as well as a strain in the neck. Hence, it is important to have a firm sleep surface so that the body is properly supported if that's what you find comfortable.
If it's the mattress that's keeping you up and causing you aches, pain, and strain, we have mattresses by names like Vispring and Hästens. These names have achieved a near-legendary status for being exceptionally comfortable and providing continuous support regardless of your preferred sleeping position.
This update is by Brickell Mattress. We sell luxury beds and the world's top mattress brands: VISPRING Luxury Beds and mattresses, Hästens Since 1852 and Carpe Diem mattresses. We offer a sterling selection of mattresses including organic & natural latex, as well as handcrafted beds and innerspring mattresses. We also have a broad selection of bedroom furniture and accessories. With more than eight years of working in the bedding industry, we pride ourselves on being your premium quality sleep center in Miami-Dade County. Visit us online at http://www.brickellmattress.com, at our store located at 1030 SW 8th Street in Miami or give us a call at 305-326-4000 for more information.