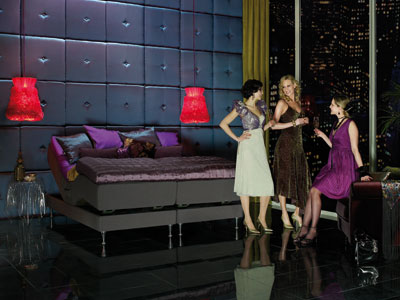 If you are looking for the pinnacle in luxury beds look no further than Brickell Mattress. Featured in their Couture Collection, the brands of Carpe Diem and VISPRING represent the world finest mattresses. Borne from the rich heritage or European bed making, Carpe Diem and VISPRING exemplify meticulous handmade craftsmanship fit for royalty. These brands are rarely found in the US, but can be seen in store or online through Brickell Mattress.
With the use of strong supple vanadium steel springs and a unique pocket coil design supplemented by exotic yet sensible materials like Alpaca, horsetail hair, coconut husk, cashmere, bamboo, silk, organic cotton, and wool from the Shetland Isle, VISPRING makes a bed with a truly legendary support system that is also incredibly breathable and sleeps cooler than any other. These beds are built to stand the test of time, when normal beds average a maximum life of 10 years, the average VISPRING will hold up for as long as 30 years without signs of aging. With so much time invested into each perfect bed, VISPRING mattresses are works of art as much as they are beds. This gives real meaning to the crowning model of the VISPRING collection The Masterpiece, this mattress embodies perfection.
After competing with the world-class company Hästens for decades, Carpe Diem has perfected its beds, arguable making the best beds in the world through a fundamental design difference in their base and top mattress design and the utilization of breathable natural materials. They have won best overall mattress in Scandinavia 7 years in a row, a statement that captures the perfection that is each and every Carpe Diem bed. Carpe Diem beds are considered my many in the industry the most comfortable beds ever made. Come in and see for yourself, experience a new comfort that is absolutely indescribable.
Experience Ultra Luxury at Brickell Mattress
The beds from VISPRING and Carpe Diem represent simply the best in innerspring comfort, quality, elegance, durability, and the use of natural materials. It is a must that you come in and experience these beds for yourself; they are truly life-changing. Brickell Mattress is located at 1030 SW 8th Street, Miami, FL 33129, come in today and start your one of a kind mattress experience. For more information go to www.brickellmattress.com or call 305-326-4000 to talk to a sleep professional who will guide you every step of the way. Come to Brickell Mattress, and start sleeping like you never have before.