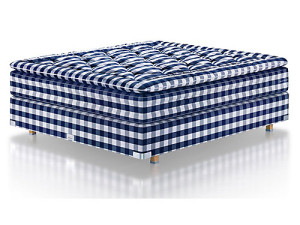 Achieving a better night's sleep is one people take quite seriously. There are plenty of apps and devices intended to help you rest and countless studies have been dedicated to discovering how humans can perfect the science of sleep. Regardless of how you go about better rest, you're going to need a mattress to do it.
The average mattress lasts for about seven years, but that's if you're going to choose a run of the mill mattress. British newspaper The Times knows just the right type of mattress you should choose, and two of the ones mentioned in its "How to choose a mattress" article are none other than Hästens and Vispring. In terms of Hästens, the article specifically singles out the Hästens 2000T which delivers different firmness on each side, an ideal solution when sleeping with someone whose weight may differ significantly. The 2000T is meant to feel as if you're sleeping on a cushion of air regardless of what position you may be resting in.
Check out the article as it's full of useful tips on buying a mattress.
This update is by Brickell Mattress. We sell luxury beds and the world's top mattress brands: VISPRING Luxury Beds and mattresses, Hästens Since 1852 and CARPE DIEM BEDS OF SWEDEN. We offer a sterling mattress collection including organic & natural latex, as well as handcrafted beds and innerspring mattresses. We also have a broad selection of bedroom furniture and accessories. With more than eight years of working in the bedding industry, we pride ourselves on being your premium quality sleep center in Miami-Dade County. Visit us online at http://www.brickellmattress.com, at our store located at 1030 SW 8th Street in Miami or give us a call at 305-326-4000 for more information on Hästens mattresses or other brands.