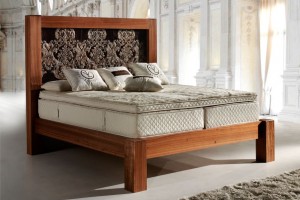 It's been shown that we spend about a third of our lives sleeping. Hence, achieving the best sleep is a goal many manufacturers have strived for. One of these manufacturers is BioVital. Using extensive research, it has managed to develop a one-of-a-kind rest system designed to tackle many of the issues that affect sleep, such as disorders like insomnia. This system allows for cellular regeneration, so customers wake up revitalized and free of stress each day.
BioVital mattresses are made by hand using all-natural materials such as latex, beech wood, coconut fiber and organic cotton. They have been scientifically demonstrated to provide benefits to the body. Among these benefits is fighting the effects of electromagnetic fields, which people are exposed to on an everyday basis whether they like it or not. Thanks to BioVital's natural technology, these fields disappear when a person lays down, creating a truly restorative sleep experience.
Visit us online to request a Bio-Vital Bed quote.
This update is by Brickell Mattress. We sell luxury beds and the world's top mattress brands: VISPRING Luxury Beds and mattresses, Hästens Since 1852 and CARPE DIEM BEDS OF SWEDEN. We offer a sterling selection of mattresses including organic & natural latex, as well as handcrafted beds and innerspring mattresses. We also have a broad selection of bedroom furniture and accessories. With more than eight years of working in the bedding industry, we pride ourselves on being your premium quality sleep center in Miami-Dade County. Visit us online at http://www.brickellmattress.com, at our store located at 1030 SW 8th Street in Miami or give us a call at 305-326-4000 for more information on Hastens mattresses or other brands.