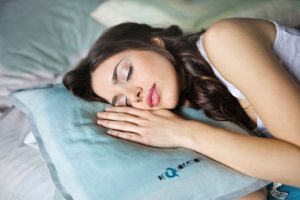 When you're reading tips and articles on improving your sleep quality or falling asleep faster, there are some common suggestions that are frequently shared. For example, many of them will tell you to refrain from using your smartphone because of the light it emits. Others will suggest making sure that the room you're sleeping in as dark as possible.
An important aspect that often gets overlooked yet is arguably just as important is the quality of your bed. Besides being comfortable, it's also important to make sure that the bed you sleep on is supportive without being too hard or soft. A quality mattress will provide just enough firmness to make sure that your spine remains aligned while contouring to your unique body shape.
With that in mind, it's just as important to make sure you aren't sleeping on a mattress that's too old. Eventually, the mattress will begin to lose back support, resulting in poor sleep posture and therefore a poor night's sleep. If you find yourself waking up with aches and pains despite sleeping eight hours, it could be that your mattress is not doing what it's supposed to be doing.
Thanks to names like Vispring and Hästens, there is no need to worry about the quality of your mattress. These manufacturers have developed sterling reputations for their meticulously designed mattresses that provide optimum support and lull you to sleep within minutes. If you want to practically guarantee yourself a better night's sleep, we have the answer.
This update is by Brickell Mattress. We sell luxury beds and the world's top mattress brands: VISPRING Luxury Beds and mattresses, Hästens Since 1852 and CARPE DIEM BEDS OF SWEDEN. We offer a sterling selection of mattresses including organic & natural latex, as well as handcrafted beds and innerspring mattresses. We also have a broad selection of bedroom furniture and accessories. With more than eight years of working in the bedding industry, we pride ourselves on being your premium quality sleep center in Miami-Dade County. Visit us online at http://www.brickellmattress.com, at our store located at 1030 SW 8th Street in Miami or give us a call at 305-326-4000 for more information on Hastens mattresses or other brands.