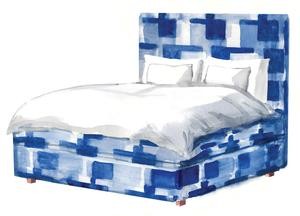 How familiar are you with the history of Hästens? Horses have played a pivotal role in the company's mattresses, particularly the use of horsehair. Horsehair is one of the several all-natural materials Hästens uses in its premium handcrafted mattresses along with cotton, flax, and more to create what are arguably the world's most comfortable beds.
Hästens is making news in none other than The Wall Street Journal thanks to its collaboration with Bernadotte & Kylberg, a Swedish design firm. The two Swedes have put their talents together to create a pair of new patterns set to debut in January of next year. In keeping with Hästens and its longtime use of horsehair, these ultra stylish mattresses are being named Marwari and Appaloosa. As you might expect, these two patterns will be handcrafted in Sweden.
Founded in 2012 by Oscar Kylberg and Carl Philip Bernadotte, Bernadotte & Kylberg has worked with numerous brands. The firm won the prestigious Red Dot Design Award in 2015 after designing a collection of vases and bowls for the Danish design company Stelton.
You can learn a little more about the Hästens collaboration by checking out the What's News: November 2017 article over on The Wall Street Journal.
This update is by Brickell Mattress. We sell some of the world's top mattress brands including Hastens mattresses and Vispring. We offer a sterling selection of mattresses including latex, innerspring, and we also have a broad selection of bedroom furniture and accessories. With more than eight years of working in the bedding industry, we pride ourselves on being your premium quality sleep center in Miami-Dade County. Visit us at 1030 SW 8th Street in Miami or give us a call at 305-326-4000 for more information.