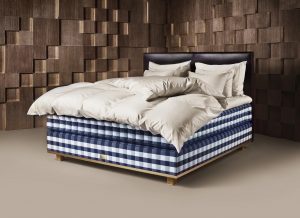 For the best in lifestyle, the American quarterly lifestyle magazine Departures remains a top source for the finest travel, art, fashion, home design, and more. As a subscription available solely to those who hold an American Express Platinum card, the magazine represents the "crème de la crème" of high-end.
The October 2018 issue of Departures focuses on Scandinavia and one of the small features is dedicated to none other than Swedish manufacturer Hästens. The brief article titled "Why buy a $150,000 mattress in Sweden?" takes a quick look at the process that goes into creating the Hästens Vividus mattress. Readers can get an idea of what the Hästens Dream Factory is like and the astute attention paid to architecture, which reinforces the meticulous care and craftsmanship that goes into the creation of the widely acclaimed mattresses.
Perhaps most refreshingly, the Departures article reinforces how Hästens continues to focus on using the expertise of highly qualified artisans to create its mattresses by hand. Visitors who take a tour of the factory will quickly notice there is no such thing as a robotic machine doing what Hästens has continued to fine-tune and perfect for years.
Pick up a copy of Departures next month and check out the Hästens mention. Visit Brickell Mattress and try one of the mattresses for yourself.
This update is by Brickell Mattress. We sell luxury beds and the world's top mattress brands: VISPRING Luxury Beds and mattresses, Hästens Since 1852 and CARPE DIEM BEDS OF SWEDEN. We offer a sterling selection of mattresses including organic & natural latex, as well as handcrafted beds and innerspring mattresses. We also have a broad selection of bedroom furniture and accessories. With more than eight years of working in the bedding industry, we pride ourselves on being your premium quality sleep center in Miami-Dade County. Visit us online at http://www.brickellmattress.com, at our store located at 1030 SW 8th Street in Miami or give us a call at 305-326-4000 for more information on Hästens mattresses or other brands.