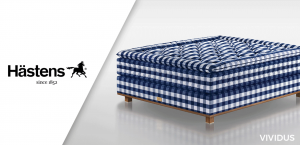 The Hastens mattress is famous worldwide for their incredible handcrafted mattresses that no one else can beat. Jan Ryde, Hastens' owner and Executive Chairman, recently sat down with Bloomberg to talk about luxury beds, the market for them, and the mattress industry.
Jan discussed how he believes that consumers are intelligent and recognize quality when they see it. That's why Hastens has risen as a luxury mattress company. In fact, Hastens is growing very quickly, and they are working in 37 countries. Jan also discussed how Hastens mattress are great for a good night's sleep.
Making sure you've got a good mattress goes beyond just getting your beauty sleep. Good sleep is one of the biggest aspects of good health. If you don't get enough sleep, your body cannot regenerate important cells or cleanse your body.  Sleep supports your immune system and is vitally important.
If the Hastens Mattress intrigues you, then check out the Brickell Mattress catalog for Hastens mattresses.
This update is by Brickell Mattress. We sell luxury beds and the world's top mattress brands: VISPRING Luxury Beds and mattresses, Hästens Since 1852 and Carpe Diem Mattresses of Sweden. We offer a sterling selection of mattresses including organic & natural latex, as well as handcrafted beds and innerspring mattresses. We also have a broad selection of bedroom furniture and accessories. With more than eight years of working in the bedding industry, we pride ourselves on being your premium quality sleep center in Miami-Dade County. Visit us online at http://www.brickellmattress.com, at our store located at 1030 SW 8th Street in Miami or give us a call at 305-326-4000 for more information on Hästens mattresses or other brands.