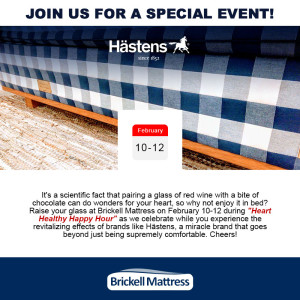 To live a better life, it's been said time and time again that a good night's sleep is imperative. The food and drink you consume also plays a major role in keeping the body and mind running smoothly. A great way to help your heart is imbibing a glass of red wine and enjoying a piece of dark chocolate, in moderation of course.
We've taken this chocolate and red wine approach as well as the importance of a good night's sleep and combined it into an event we like to call "Heart Healthy Happy Hour"! Beginning on Saturday, February 10th through Monday the 12th we're inviting you to join us at Brickell Mattress for a glass of wine paired with a perfect piece of chocolate while you rest up and experience the magic of Hästens mattresses.
Hästens mattresses are considered to be among the most comfortable in the world! They revitalize the body and mind while also boosting deep sleep cycles, even among those who may suffer insomnia. Figuratively speaking, Hästens is essentially a miracle bed with curative qualities. Fall asleep faster, sleep better, and wake up feeling like a new person on these handmade materials made entirely of natural materials.
We invite you to raise a glass and enjoy tasty sweets with us at Brickell Mattress. Here's to living (and sleeping) better!
This update is by Brickell Mattress. We sell luxury beds and the world's top mattress brands: VISPRING Luxury Beds and mattresses, Hästens Since 1852 and CARPE DIEM BEDS OF SWEDEN. We offer a sterling selection of mattresses including organic & natural latex, as well as handcrafted beds and innerspring mattresses. We also have a broad selection of bedroom furniture and accessories. With more than eight years of working in the bedding industry, we pride ourselves on being your premium quality sleep center in Miami-Dade County. Visit us online at http://www.brickellmattress.com, at our store located at 1030 SW 8th Street in Miami or give us a call at 305-326-4000 for more information on Hastens mattresses or other brands.