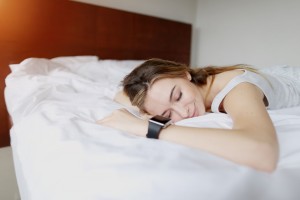 With the ever-increasing popularity of wearables, sleep trackers are going mainstream more and more as people continue their never-ending quest to achieve and adopt better sleep patterns and habits. While these devices are supposed to be helpful, recent research provided by the Journal of Clinical Sleep Medicine may suggest otherwise.
The research appears to indicate that the sleep trackers are actually contributing to worse sleep because the participants/patients were placing too much attention on the sleep tracker. Individuals self-diagnosing themselves with sleep disorders like insomnia were ruining their sleep because they were not meeting the standards of what the tracker determined was "good quality" sleep. Hence, the people who participated became dependent on their device, leading to unnecessary concerns and stress at bedtime and the belief that whatever their sleep tracker was telling them was the truth.
Instead of relying on a tracker, you may wish to consider practicing better sleep habits and making sure that the mattress you're sleeping on isn't keeping you up at night. We'll be happy to give you some tips on making sure your mattress is the right one for you.
To read more, visit http://www.phillyvoice.com/sleep-tracking-decive-make-sleep-worse-study-orthosomnia/.
This update is by Brickell Mattress. We sell luxury beds and the world's top mattress brands: VISPRING Luxury Beds and mattresses, Hästens Since 1852 and CARPE DIEM BEDS OF SWEDEN. We offer a sterling selection of mattresses including organic & natural latex, as well as handcrafted beds and innerspring mattresses. We also have a broad selection of bedroom furniture and accessories. With more than eight years of working in the bedding industry, we pride ourselves on being your premium quality sleep center in Miami-Dade County. Visit us online at http://www.brickellmattress.com, at our store located at 1030 SW 8th Street in Miami or give us a call at 305-326-4000 for more information on Vispring mattresses or other brands.