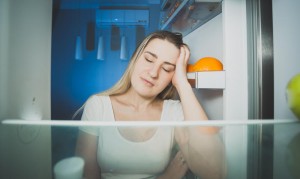 Each day, more and more studies are released detailing the multitude of side effects that may result from sleep deprivation. Sure enough, yet another new study shows that poor sleep may spur a desire to pursue unhealthy eating habits, potentially upping the risk of developing diseases such as obesity or diabetes.
While there is nothing wrong with a late night snack here and there, the study suggests that habitual late-night snacking may lead to health risks. More than fifty percent of study participants admitted that sleeplessness caused them to grab a late night snack on a regular basis.
Millions of individuals in the United States deal with the effects of sleep disorders like insomnia. Because sleep quality is closely intertwined with eating habits as well as a person's mortality, it's important to take the steps to sleep better. That means sleeping in a cool room, refraining from using mobile devices, and also sleeping on a quality mattress that provides the cushion and comfort so there is less tossing and turning. If you haven't tried out mattresses like Hastens, we encourage you to visit Brickell Mattress and try one out. These handmade mattresses will have you falling asleep in minutes with less tossing and turning so you don't feel the need to get up in the middle of the night for a bite.
To read more about the study, please visit https://www.medicalnewstoday.com/articles/322022.php.
This update is by Brickell Mattress. We sell luxury beds and the world's top mattress brands: VISPRING Luxury Beds and mattresses, Hästens Since 1852 and CARPE DIEM BEDS OF SWEDEN. We offer a sterling selection of mattresses including organic & natural latex, as well as handcrafted beds and innerspring mattresses. We also have a broad selection of bedroom furniture and accessories. With more than eight years of working in the bedding industry, we pride ourselves on being your premium quality sleep center in Miami-Dade County. Visit us online at http://www.brickellmattress.com, at our store located at 1030 SW 8th Street in Miami or give us a call at 305-326-4000 for more information on our mattress collection.