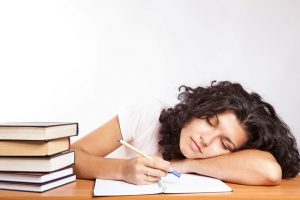 The general rule of thumb is to get at least seven hours of sleep each night, which most people don't. In fact, according to the Centers for Disease Control and Prevention (CDC), more than thirty percent don't get the amount of sleep they need.
Per the CDC, a person shouldn't remain awake for more than seventeen hours, or they'll begin to experience some of the effects of sleep deprivation. While sleep requirements do vary among each individual, sleep deprivation may cause short term symptoms such as fatigue, an impaired ability to concentrate, moodiness, and irritability. It can also lead to obesity, diabetes, and even heart disease.
While sleep deprivation has many negative effects, in some cases it can even prove fatal. A rare sleep disorder known as fatal familial insomnia (FFI) results in a condition where the region of the brain responsible for regulating sleep is affected, resulting in symptoms like weight loss, dementia, and, eventually, death within a year or so.
The longer a person a remains sleep deprived, the more severe the symptoms become. Muscle tension and increased levels of blood sugar can happen during 24 hours of sleep deprivation and they continue to get worse. Brain unconsciousness (48 hours), paranoia (72 hours), these only reinforce the need to get to bed on time.
If it's your mattress that is taking away precious minutes from your sleep cycle, we encourage you to visit Brickell Mattress to try one of the premium mattresses by brands like Hastens that have developed worldwide acclaim for their incredible comfort.
To read more, visit https://www.medicalnewstoday.com/articles/324799.php.
This update is by Brickell Mattress. We sell luxury beds and the world's top mattress brands: VISPRING Luxury Beds and mattresses, Hästens Since 1852 and CARPE DIEM BEDS OF SWEDEN. We offer a sterling selection of mattresses including organic & natural latex, as well as handcrafted beds and innerspring mattresses. We also have a broad selection of bedroom furniture and accessories. With more than eight years of working in the bedding industry, we pride ourselves on being your premium quality sleep center in Miami-Dade County. Visit us online at http://www.brickellmattress.com, at our store located at 1030 SW 8th Street in Miami or give us a call at 305-326-4000 for more information on Hastens mattresses or other brands.