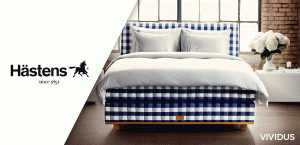 With so many people getting ready to travel for the summer, you might be wondering what places deliver the biggest bang for the buck and create the most memorable experiences. The website Skift provides news and research centered around the travel industry and it recently published an article discussing "The Best Luxury Experiences for Summer Travel".
Among the various categories mentioned in the article such as the best hotels, bars, and cuisines, one of the categories highlights the best bedding. That honor goes to the luxurious Hotel St. Cecilia in Austin, Texas. If you haven't already figured out where we're going with this, the hotel uses Hästens beds, which the article appropriately called "perfect".
If you haven't tried a Hästens bed, you're missing out on providing your customers what are arguably the best beds in the world. Not only are they supremely comfortable, they are known for their rejuvenating qualities, absorbing static from the body so that a person wakes up feeling genuinely rested and relaxed when they wake up the next day. If you'd like to learn more about them or try one out, visit us today.
This update is by Brickell Mattress. We sell luxury beds and the world's top mattress brands: VISPRING Luxury Beds and mattresses, Hästens Since 1852 and CARPE DIEM BEDS OF SWEDEN. We offer a sterling selection of mattresses including organic & natural latex, as well as handcrafted beds and innerspring mattresses. We also have a broad selection of bedroom furniture and accessories. With more than eight years of working in the bedding industry, we pride ourselves on being your premium quality sleep center in Miami-Dade County. Visit us online at http://www.brickellmattress.com, at our store located at 1030 SW 8th Street in Miami or give us a call at 305-326-4000 for more information on Hastens mattresses or other brands.