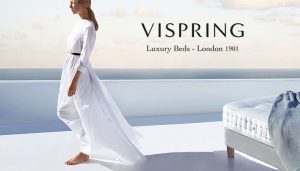 How much value do you place on getting a good night's sleep? Enough to spend about $80,000 on one? If you have the money and want what may perhaps be the ultimate luxury sleep experience, Vispring has a mattress for you. Dubbed the Vispring Diamond Majesty, the mattress is currently on display in Devon, England until Labor Day after originally making its debut in Milan back in April.
The Vispring Diamond Majesty has been constructed using the finest expertise in mattress making, utilizing natural materials and rare fibers to create what may just be the ultimate sleep experience. The mattress is hypoallergenic, incredibly soft, and it also features insulating properties so that the person(s) sleeping on it remain comfortable no matter what season it is. The bed is currently making its way around stores throughout the world, so you may eventually be able to catch a glimpse of it or see it in person.
We have Vispring mattresses for you to try at the Brickell Mattress store. These are some of the most comfortable beds you will ever sleep on in your life and we welcome you to discover why they are unlike anything you've likely ever slept on.
This update is by Brickell Mattress. We sell luxury beds and the world's top mattress brands: VISPRING Luxury Beds and mattresses, Hästens Since 1852 and CARPE DIEM BEDS OF SWEDEN. We offer a sterling selection of mattresses including organic & natural latex, as well as handcrafted beds and innerspring mattresses. We also have a broad selection of bedroom furniture and accessories. With more than eight years of working in the bedding industry, we pride ourselves on being your premium quality sleep center in Miami-Dade County. Visit us online at http://www.brickellmattress.com, at our store located at 1030 SW 8th Street in Miami or give us a call at 305-326-4000 for more information on Hastens mattresses or other brands.