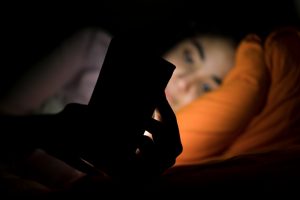 During the day, you may run into a scenario where you're feeling tired despite having slept a decent amount of hours the night before. Even if you get seven hours or so a night, the quantity of your sleep may not be positively affecting the quality. What's going on? Let's explore some possible factors.
You're not sticking to a sleep schedule. It's been said time and time again and it remains true: it's important to go to bed and wake up around the same time each night, even on weekends. In fact, it's arguably more important than getting seven hours of sleep or more. Your brain has a thing for consistency, which means your circadian rhythms will work together in harmony if you stick to a schedule.
You're pumping iron too late. With so many responsibilities to take care of each day, it's not always easy to work out in the morning or afternoon. While exercising certainly helps with falling asleep, doing it close to bedtime may prevent the release of melatonin which helps to induce sleep. Always try and work out early if time allows.
You may have an undiagnosed sleep disorder. A sleep disorder such as insomnia can affect millions of people yet they are unaware they are suffering from it. If you think that's the case, consult a healthcare professional and also take a look at the type of mattress you're sleeping on.
This update is by Brickell Mattress. We sell luxury beds and the world's top mattress brands: VISPRING Luxury Beds and mattresses, Hästens Since 1852 and Carpe Diem Mattresses of Sweden. We offer a sterling selection of mattresses including organic & natural latex, as well as handcrafted beds and innerspring mattresses. We also have a broad selection of bedroom furniture and accessories. With more than eight years of working in the bedding industry, we pride ourselves on being your premium quality sleep center in Miami-Dade County. Visit us online at http://www.brickellmattress.com, at our store located at 1030 SW 8th Street in Miami or give us a call at 305-326-4000 for more information on Hästens mattresses or other brands.