Hastens
The history of Hästens spans more than five generations, dating all the way back to the 1800s. Founder Pehr Adolf Janson lived in poverty in the city of Örebro, Sweden. Inspired by his father to make a better life for himself and his family, Janson set out to become a master saddler, beginning an apprenticeship at the age of eighteen. He would eventually earn his Mater Saddler certificate in 1852, bestowed upon him by the King of Sweden.
As a saddler, Janson's duties included making leather goods and fine horsetail hair mattresses. After marrying, starting a family, and moving to the community of Hed, Janson's son Per Thure followed in his father's footsteps, also becoming a saddler. Together with his son David Janson, Per Thure launched a successful business where making beds quickly outgrew the demand for saddles.
In 1939, architect Ralph Erskine traveled to Sweden and met David Janson, who would go on to design the Hästens Factory in 1948 as well as its 1998 expansion. To this day, Hästens remains a family-owned company renowned for manufacturing its mattresses and beds by hand at the historic factory in Köping, Sweden.
Since its humble beginnings in the 1800s, Hästens has cultivated a sterling reputation for its meticulous craftsmanship techniques and the use of ethically-sourced natural materials in its premium mattresses. With a history spanning six generations, the Swedish manufacturer sells some of the world's finest and most comfortable beds, mattresses, and bedding accessories.
Natural materials continue to play a pivotal role in the appeal of Hästens beds. Flax, horse hair, wool, and cotton are among the materials used to create the company's acclaimed beds and mattresses, all of which continue to be manufactured at Hästens Factory in Sweden by individuals with years of experience.
The company's ultimate goal remains a steadfast focus on reinventing and refining the conventions of bed making. Today, it is recognized for being the first company to use a top mattress on a continental bed. Quality, comfort, service, and detailed construction are key principles as Hästens continues its relentless efforts to fine-tune sleep craft.
The sterling reputation Hästens has built is partially due to its continued focus on utilizing the finest sustainably produced, and ethically-sourced natural materials in its products. These materials can then be given a new life or returned to nature, where they came from.
Horsehair is the foundation for Hästens and it remains the company's most beloved material. A key material in bed construction, each individual strand of hair is allergen-free and functions as a minuscule spring, providing essential pliability and support. Horsehair also serves as a ventilation system, allowing moisture to travel away while simultaneously letting fresh air in. With this system, the body remains cool during deep sleep.
Cotton already has a well-established history of being one of the softest and most comfortable materials used by mankind. As a complement to horsehair, it works wonderfully. Hästens soft cotton keeps the body cool and dry by allowing air to circulate, contributing to more deep sleep cycles while helping you fall asleep faster.
Wool is the climate control system of Hästens beds, creating elasticity, flexibility, and resilience. Each individual fiber contributes towards a natural insulation, allowing the bed to absorb moisture without causing a pool of sweat during warmer weather. Thanks to the fusion of the cotton, horsehair, and the wool, you sleep tightly no matter the season.
Along with flax as the noise and vibration suppressor and pine for strength and stability, Hästens beds are unlike anything you've ever slept on before.
A good night's sleep will not only affect your mood during the day, it can improve your overall health. Hästens remains driven by an eternal passion for sleep and how it keeps the body and soul working harmoniously. Sleep is essential to life, a natural process unable to be duplicated, purchased over a counter or consumed in a pill. There is no way to cheat towards achieving perfect sleep but there are ways to create a sleep experience that will leave you feeling rested, rejuvenated, and ready to take on whatever responsibilities life throws at you.
More than 150 years since it began, Hästens continues to pioneer the science of sleep through meticulously handcrafted beds using natural materials. In fact, a quick Google search will reveal numerous customers that have experienced the Hästens difference and have never looked back. We invite you to explore why its beds, mattresses, and accessories are among the world's finest and most acclaimed beds.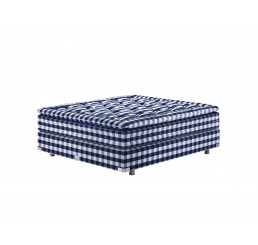 A magnificently weightless sleep experience brimming with innovation.
• Adjusts effortlessly to tiny movements.
• Beautifully designed with brushed aluminum finishing and double side stitching.
• Three individual Hästens Spring Systems provide full body support.
• You and your partner's body movements are entirely isolated.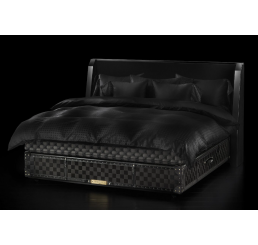 THE ART AND BEAUTY OF ULTRA LUXURY.
Every detail of the majestic Grand Vividus is meticulously crafted by hand by the only few people in the world who have the ability and skills required to create this masterpiece: Hästens' most masterful craftsmen in Sweden.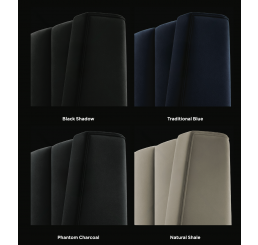 drēmər® HEADBOARD FACTS
DESIGNER: Ferris Rafauli.
COLORS: Black Shadow, Traditional Blue, Phantom Charcoal, and Natural Shale.
SIZE: Height 145 cm, depth 32 cm / depth bottom wing 55 cm. The headboard stands on a reveal in the oak bed base painted in gloss black.
MATERIALS, COVER: Velvet in 83% cotton, 9% modal, 8% polyester.
MATERIALS, PADDING: 65% cotton, 35% wool.
PRICE: Starting from EUR 21,985 / 27,695 USD.
AVAILABLE at Hästens stores globally from March 22, 2022.
PRODUCTION LEAD TIME to the central warehouse in Sweden: 6 weeks, status April 20, 2022. In addition to this lead time, regular shipping times apply.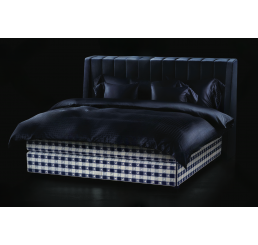 BED FACTS
DESIGNER: Ferris Rafauli.
COLORS: Black Shadow, Traditional Blue, Phantom Charcoal, and Natural Shale.
SIZES: All sizes.
FIRMNESS: Soft, medium, firm, extra-firm, and combined firmness.
PRICE: Starting from 28,390 EUR / 35,790 USD.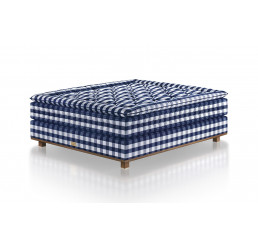 What happens when Hastens takes bed building co an extreme level?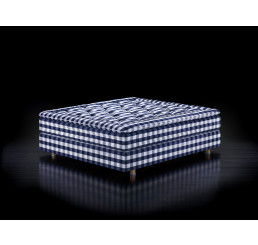 Maranga's middle mattress: your ticker to a higher level of comfort.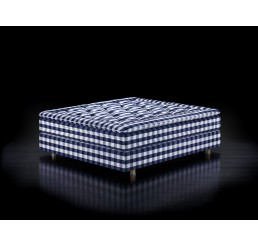 Three carefully combined spring systems work together to support your body in balance, even when your partner turns over, reaches for the phone, or gets up for a midnight snack. So you wake up in balance. And remain in balance throughout your day.
The bed that unites weightiness with fluffiness. And night with day.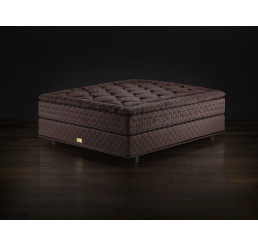 Bernadotte & Kylberg have outdone themselves with their unique interpretation of the Hästens 2000T called the Marwari. The duo took a close look at the essence of Hästens to redefine the company's blue and white check and create something that offers a refreshing take while also leaving no doubt whatsoever that it is a Hästens bed. In designing the Marwari, Bernadotte & Kylberg have kept the tradition of using horses in not only the mattress name but also giving it the illusion of saddle girth. Considering the origins of Hästens as superb makers of saddles, the Marwari is a lovingly modern and supremely elegant tribute.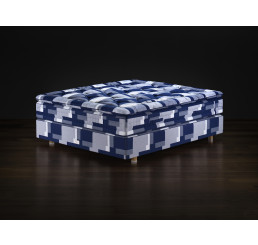 The firm of Bernadotte & Kylberg has taken the best qualities of the highly acclaimed Hästens 2000T to create a vividly eye-catching interpretation in the Appaloosa. It maintains the classic Hästens checkmark and its history with horses while providing something fresh and new. The team interweaved the original colors to devise a pattern where a quartet of color fields create a graphic abstraction while also giving the Appaloosa the illusion of movement. The firm made sure to create a fusion that makes it clear it is none other than a Hästens bed while still giving it a modern, innovative twist.